Hotel Information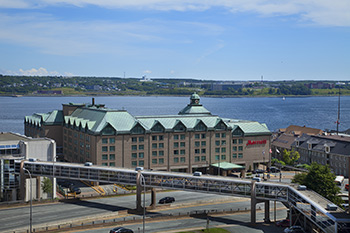 Rooms over the SAM meeting (August 6-9) are available at the IMG preferred rate.
If you are arriving earlier, you will need to book rooms directly with the hotel (1-800-943-6760) or via their website: www.halifaxmarriott Rooms are availaible on August 5, but not the IMG perferred rate or within our origial block.
Here is what you need to do:
For SAM meeting August 6 – 9 inclusive book your room though the IMG link: https://www.marriott.com/events/start.mi?id=1548950944649&key=GRP


For extra nights go to the Marriott Halifax site www.halifaxmarriott.com OR call the hotel to book: 1-800-943-6760 To ensure you do not have to change rooms - advise the hotel of the two confirmation numbers and have them linked.
IMG Requests that you stay at our host hotel - the Halifax Marriott Harbourfront. IMG has contracted preferred hotel rates for our block of rooms and has guaranteed their utilization. Attendees who stay outside of the IMG block will be charged an additional $150 after the conference (exceptions may be made for local attendees).


** Reservations booked within this block are subject to a 14-day cancellation policy. A deposit of one night's stay will be charged to the credit card on file on Tuesday, July 23rd, 2019; this deposit is non-refundable. **