line runs in January 2016. With the addition of these new coaches, the average age of the coaches in the Trans-Bridge fleet is only 6 years old. Additionally, Trans-Bridge hopes to add 13 new buses, between the end of 2016 and the beginning of 2017.
The new 2016 models improve both functionality and performance, for easier handling and a smoother ride for both the driver and passengers. The design of this coach makes major advances geared toward economy, the environment and technology. The MCI J4500 provides the newest clean-diesel technology, for improved fuel economy and near-zero emissions.
Trans-Bridge Lines, Inc. President, Tom JeBran stated, "We are proud to provide buses that are environmentally friendly." The motor coach is the greenest mass transportation option on the planet, surpassing the train, plane and passenger car in lower emissions per passenger mile, by far.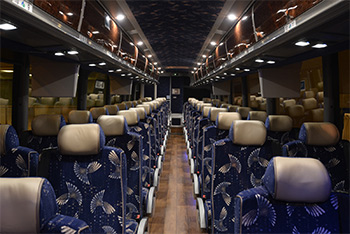 Other improvements include the Ben-dix brakes, which provide car-like control and exceptional stopping distances, as well as a new upgrade in lighting, featuring custom LED daytime running lights. These buses also come equipped with MCI's much anticipated 110-volt electrical outlets and USB plugs located at every seat, providing more convenience for passengers. 
JeBran added, "These coaches have a very inviting, comfortable and upscale interior, which places Trans-Bridge above the competition, in terms of luxury and they provide customers with the ultimate experience in comfortable transportation. No other bus company in the general area includes buses like these in their fleets."
Trans-Bridge Lines, and its related company, Lehigh Valley Motorcoach, operate daily bus service to New York City, Newark and JFK Airports from the Lehigh Valley and Doylestown area and provide charter coach service, including a 24-passenger luxury coach. Trans-Bridge also offers daily trips to the Manhattan and Bayonne, NJ piers.