Feb. 24th, 2017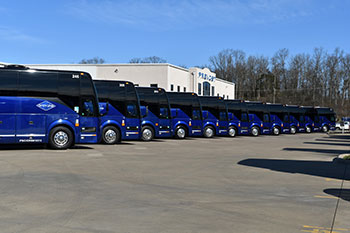 Over four decades ago, the Levering Brothers began making an impact on the local hospitality and tourism industry,
and over the years they became an integral part of Nashville's growth and increasing popularity as a destination city.  From sightseeing tours to charter transportation, the company they started understood the importance of customer service, and eventually came to be known as the local transportation and tourism expert.
Today, the legacy lives on as Gray Line Tennessee introduces the launch of eleven new premium motor coaches.  The company's Charter business, led by General Manager Kristin Levering, now operates one of the largest and newest fleets of full size motor coaches in the region.   The 2017 Prevost H3-45 coaches feature the latest in safety and comfort and with the most highly trained professional drivers, these vehicles  will offer the highest level of customer service and care.
All Gray Line Tennessee vehicles are maintained in a state-of-the art maintenance facility, by mechanics who have the full support of the Prevost regional service and training center, right up the road in Goodlettsville.  And as a result of our long-standing affiliation with the International Motorcoach Group (IMG), customers can be assured that our charter operations meet the high standards for quality, safety and customer service that are characteristic of the top operators in the US and Canada.
We are proud of the town we grew up in, proud of our fleet and proud of our relationships with Prevost and IMG.  Our legacy runs deep, and so does our impact on the region.
And the new buses sport a new color.  The name of the color?  "Deep Impact Blue", of course!