Oct. 16th, 2017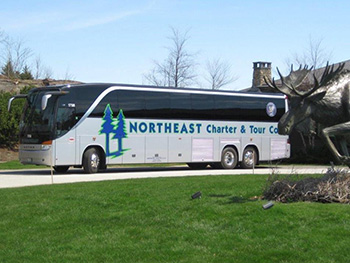 The International Motorcoach Group (IMG) announces that NorthEast Charter and Tour, Co. as the newest addition to their North American network, a private network of 56 companies around the United States and Canada.
NorthEast Charter joins IMG's Cyr Bus Lines in serving the state of Maine and surrounding areas.
Founded in 1999, as a company taking skiers from Portland to Sunday River, NorthEast Charter under the leadership of owner Scott Riccio has grown NorthEast to a fleet of 26 motorcoaches plus 28 school buses, 2 trolley and other smaller vehicles, to become a significant charter operator in the New England region. The main NorthEast Charter facility is in Lewiston, Maine, with other locations around the state in Lincolnville, Winthrop and Kennebunk.

Riccio said on joining the IMG network: "I am looking forward to having NorthEast Charter becoming part of the IMG network and the opportunity of associating with the staff and IMG members across the country. IMG offers a multitude of products, training and services to its members. We are looking forward to utilizing each and every IMG benefit within our company. "
IMG's President, Bronwyn Wilson added: "We are delighted to have NorthEast Charter join IMG and expand our visibility in the Maine and New England region. The team at NorthEast Charter have an enthusiasm and commitment to excellence in motorcoach transportation that will enhance the IMG network"