Mar. 7th, 2018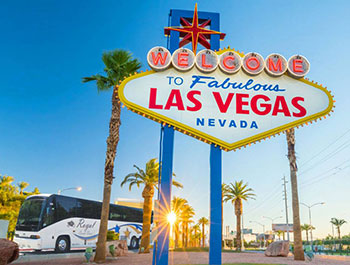 Royal Coach Tours announced that the company is expanding its operations and is now providing premium motorcoach services in Las Vegas, Nevada. From its new location on Las Vegas Boulevard South, Royal Coach Tours will transport clients to conventions, sports events, airports, weddings, school field trips, and private parties throughout Las Vegas and surrounding areas.

Royal Coach Tours will continue to provide service to Silicon Valley and the San Francisco Bay Area, where it has been a leader in luxury transportation solutions since 1960.
Greg Gallup, CEO of Royal Coach Tours, stated, "Las Vegas is a very similar market to the Bay Area and a perfect fit for our operations. We are excited to expand our network and provide our signature 'royal service' to clients in Nevada!"
Contact information for the new Las Vegas office:
8801 Las Vegas Blvd S. Suite 200
Las Vegas, NV 89123
PHONE: 702-570-2390 | This email address is being protected from spambots. You need JavaScript enabled to view it.
About Royal Coach Tours:
Family owned and operated since 1960, Royal Coach Tours is a premier provider of luxury motorcoach transportation serving Silicon Valley, the San Francisco Bay Area, and Las Vegas. A member of the IMG network, Royal Coach Tours has an outstanding reputation for safety, reliability, and superior customer service. www.royal-coach.com.