Sightseeing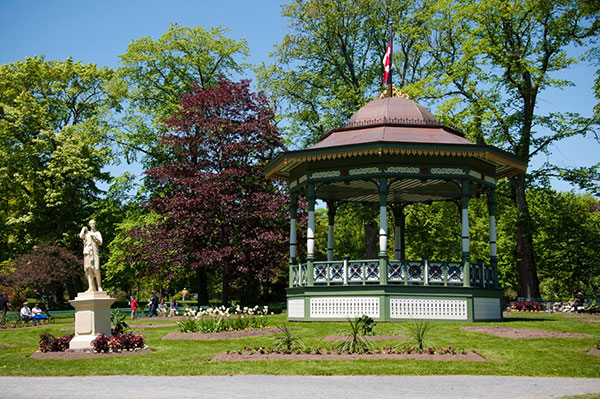 Partner Tour
- Thursday, August 8, 9:45 am to 12:30 pm
Join the IMG family for the Deluxe Halifax City Tour
Enjoy a stop at the Fairview Lawn Cemetery where 121 victims of the Titanic disaster are buried and hear stories of the victims who rest in Halifax. Perched on a hill high above the city a photo stop is made at the Citadel National Historic Site. Visit the Victorian Public Gardens an oasis in the center of the bustling city. Pass by Province House National Historic Site, the 1802 Old Town Clock, 1750 St. Paul's Anglican Church and the Historic Properties. Learn about the 1917 Halifax Explosion.
There is no fee for this tour. To reserve a spot, click below to email Terri Phillips - include name and # of participants
*IMG Owners – this tour overlaps with IMG's Shareholder Forum, Manufacturer's Presentations & Board Meeting.
To Sign up for this tour please email Terri Phillips, This email address is being protected from spambots. You need JavaScript enabled to view it.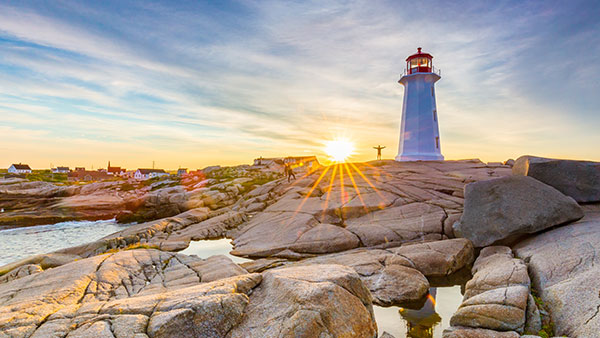 Shareholder & Partner Tour - Friday, August 9, 9:00 am-12:30 pm
Do not miss out on an unforgettable tour to the most photographed lighthouse in the world!
Peggy's Cove has been an artist and explorer's paradise for well over 150 years. This picture-perfect postcard village on the rugged Atlantic shoreline, stands on solid rock above the crashing surf. The fishing village has long been a backdrop for tales of pirates and shipwrecks, and you will have some free time to explore the rocks, walking trails, village, and many quaint boutiques and gift shops in the cove.
Peggy's Cove has also been the muse for many artisans over the years. Perhaps the most notable is William Edward deGarthe, a Finnish-born painter and sculptor. See his famous tribute to the fishermen of Nova Scotia in the village of Peggy's Cove.
To sign up for this tour click here!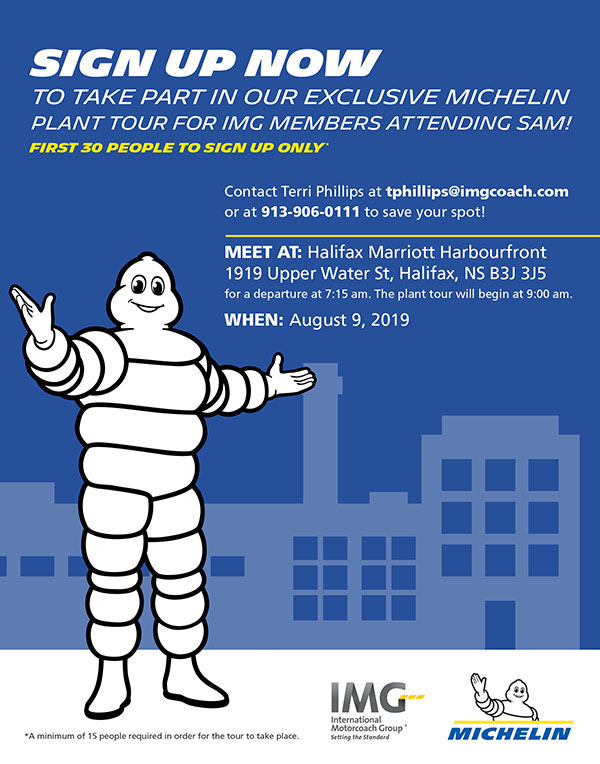 Michelin Plant Tour - Friday, August 9, 9:00 am-12:30 pm
Have you wondered what all goes into making the tire you put on your motorcoach?
Michelin is providing you with the opportunity to experience this process firsthand! On August 9th, the last day of SAM, Michelin is offering IMG members the chance to take part in an exclusive tour of their Nova Scotia plant for the first 30 people to sign up. You'll receive a better understanding of the exact construction of a tire that plays a vital role in safety, fuel efficiency, performance and eco-friendliness. Transportation and lunch will be included in this tour. Be sure to take advantage of this great opportunity and sign up today!
Please note that the cutoff date to sign up for the Michelin Plant Tour is July 8th and will be happening at the same time as the Halifax Sightseeing Tour. In order for Michelin to run the tour, there will need to be a minimum of 15 attendees.
To sign up, please contact Terri Phillips at This email address is being protected from spambots. You need JavaScript enabled to view it. or call the IMG office at 913-906-0111.