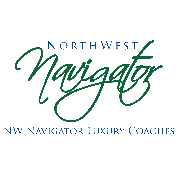 Northwest Navigator Luxury Coaches
13940 N Rivergate Blvd
Portland, Oregon  97203
503-285-3000
Website: www.nwnavigator.com
Email: This email address is being protected from spambots. You need JavaScript enabled to view it.
FAX: 503.285.5493
In business since: 2008

 LUXURY | SERVICE | RELIABILITY | SAFETY   At Northwest Navigator Luxury Coaches, we believe that, while a "trip" is measured in miles, a "journey" is measured in moments; moments filled with exceptional service, exceptional amenities and exceptional people. From our experienced, professional drivers to our world class customer service executives, NW Navigator's commitment to Service, Reliability, Luxury and Safety is reflected in all we do.    
What Our Customers are Saying
  Thank you! (Our driver) was excellent and we thank you for great service today!   Aysha, Federal Government (We) just returned late last night from our festival trip to Seattle, April 15-17. I just wanted you to know how wonderful (our driver) was to us.   At each leg of our journey, he was where he was supposed to be, and always courteous. He went out of his way to ensure we had what we needed. His driving was impeccable and our trip was a great one, due in large part to him. I've been on many trips throughout California and the Pacific NW with many different drivers, and (our driver) stands out at one of the best. Thank you for hiring such great drivers, and I look forward to using NW Navigator in the future. Melissa, Central Oregon Music Education Association Hi — just wanted to tell you how happy I've been with (our driver) as the driver on our trip. As you know, we are headed home tomorrow morning, and throughout this trip she has been kind, reliable (always prompt). She is always where she says she will be and when. She has been flexible with any changes we needed to make. Thank you for assigning her to our bus. Melissa, Choir Director HS Also, just want to let you all know that (our driver) is an AMAZING driver and was a pleasure to work with. I'm looking forward to working with him again Thank you! Allison, National tour company I am reaching out once again to say Thank You for the awesome service provided by your drivers. (The NW Navigator driver who) was our driver for the weekend was a pleasure to work with. Her positive attitude and energy could be used as a model for others.I wish you and your staff the best and look forward to working with you the next time we are in the Northwest!Many Blessings. Jason, Quarterbacks Coach, California The tour went well. Love Rick; he was great. Look forward to working with you next year. Rod, Plastics Inc Your drivers were amazing yesterday. In the most adverse conditions your drivers went above and beyond to please the organizers, maintain the utmost safety of their buses and remain smiling and accommodating throughout the ordeal. Please pass on our heartfelt thanks and KUDOS for an exceptional job well done. Large Event Planner, Nike You are my first choice for transportation because I enjoy (your drivers) and your beautiful coaches. Lisa, NIKE Hi, Thank you for teaming up with us again, the event went great and everyone had a great time. Your drivers were great to work with this year and I appreciated how flexible they were and willing to be on call when we needed them. With us not using the main reservoir this year we had to switch our schedule up quite a bit but all of the drives were happy to shift schedules around to accommodate the change in schedule. We probably drove less miles / time this year due to all of the events starting in the middle of campus.Please tell all 3 of the drivers again , thank you! They were all terrific. I hope they enjoyed there time with us as well.   I look forward to keeping our great working relationship with NW Navigators for future Wild Canyon Games events. Please let me know if there is anything on our end that we can do to help make things even better for your team, Thanks again David. Matt Greetings once again! Thank you for helping me plan a successful trip to Clackamas last weekend. Our drivers were great and the busses ran well. Eddie, High School in Bend Oregon Hi, I just wanted to take a moment and tell you how much we enjoyed our driver for our annual ski trip to Meadows. She was punctual, friendly and professional and she helped make sure everyone had a safe and enjoyable trip up to the mountain and back. You have a wonderful driver on your team. She was a pleasure to have with our group and we will request her again the next time we are in need of a charter. Have a great day! Sandy, VP of Marketing and Technology Hi – I just wanted to let you know that our first experience using NW Navigator was a big success! Our bus charter last night went off without a hitch, and our driver took great care of us. We were so pleased, in fact, that I'm copying my office on this email, as she may have some charter bus arrangements coming up and I'm happy to recommend you. Thanks for all your help! Papa Murphy's Intl' I want to thank you for working with us on our Corvallis trip on Saturday. Your drivers were fantastic and our staff and employees had a great time.   ENGINEERING & FORESTRY I just wanted to take a moment to let you know how courteous, friendly and professional your driver was during our recent trip. He made our long tripmuch more enjoyable and pleasant. He is an excellent driver and I would recommend him to anyone using Northwest Navigator. To that end the bus was very nice and clean and made our travel as comfortable and smooth as possible. Thanks again to you and your staff for making our recent trip a success. I look forward to future trips with Northwest Navigator. Bryce, Assistant Men's Soccer Coach University in PA I wanted to thank you and your drivers for your service on our Hop Tours this week. The drivers were very helpful, polite and we loved having them with us! Thank you for letting us bring our beer on the buses as well-they are always a huge hit with the rest of our guests! We hope to use your company again next year. Cheers! Angie, Receptionist and Marketing Department Assistant The service was great last night! Thank you for having the drivers out ahead of time to know the route it really made things smooth! You are appreciated by ME! Amanda, Portland Event Planner I just wanted you to know this was the first time in the 9 years we have been offering free bus rides to the fair that I did not get one complaint!! I did get one compliment! Dan, Bend Oregon County Fair Thanks! (The drivers) have all been FANTASTIC. I wish I did more programs in Portland so I could work with them more often! Amy, Logistics Event Planner We just wrapped up the Brand USA – Japan television project The crew really enjoyed the service and our amazing local coordinator Red 'the rock star' Gillen couldn't say enough about the quality of the coach and overall service, but the stand out for the whole package was their driver. He was amazing and went above and beyond with the service he provided this highly demanding group of television producers, executives and slightly high maintenance talent. Greg Thank you. As far as your survey, since the trips were taken by the schools I cannot really complete them, but I can tell you I am very satisfied with your service…….excellent all the way around. Thank you again!   Edie, Assistant to MS Director   I want to thank you for all your help in getting the bus organized for our Mystery Trip. (Our driver) did a great job driving and everyone had such a wonderful time. They were so impressed by this big, gorgeous bus! It was an awesome day. Thanks   Julie   Hi, I would like you to share this letter with Joe & Roxanne please. Most of it was for the tour company that arranged and the CA groups involved, but great comments about (our driver)!I also want to say that (our driver) is the best driver I've ever had for an over-the-road-tour group! He is so caring, gracious and respectful and it's genuine! He is a keeper! I want him for all our tours!!!!! Ok…..I know we have to share…….Anyway, please pass on this info and (our driver) already knows how I and the group felt about him….I read all 30 reviews from the group on our drive home that day. All good! Thanks   Debbie, Tour Director and Step on Guide   Dear Sirs: I wanted to express to you my appreciation for our wonderful (driver). Please excuse that I don't have his last name. First, he is an excellent bus driver for all roads, including some some pretty tricky ones! I always felt comfortable and confident on the trip. Secondly, he is witty and evoked smiles from everyone, every day! Thirdly, he was so very cordial and accommodating to all of us – giving us all a hand as we exited the bus. He was an intrinsic member of the team that made this trip unforgettable for us! I think people who are great should be acknowledged. And I think (this driver) is great! Wishing you and your company and (our driver) all the very best!   Dorothy   We are looking forward to 7 trips next year. The first trip was great, the bus was comfortable and (our driver) was very good with the people and an excellent driver thank you for a great start.   Lynn, Travel Company   I wanted to follow up with you regarding our charter at the end of last month. The bus was excellent and everyone really appreciated it being new and well-maintained and having a working restroom, PA system and DVD player. As for our driver, in my many years of working with drivers I have to say that he might be the best one I've worked with anywhere in the country. The kids loved him, the adults loved him and we as guides loved him. He was an absolute perfect fit for our group. He was easygoing, flexible, patient, safe, relaxed, funny, entertaining and a pleasure to be around. We made it clear to the group that we were going to give him a gratuity but they insisted on tipping him extra nonetheless, they liked him so much. What a great guy and driver. We'd absolutely love to have him on any future groups we book with you. So overall it was a great success and we appreciated it. I'll be in touch about any future groups and will be requesting our same driver when I do. Thanks   Dave   It was nice speaking with you today and I am very pleased to write a quick thank you for having Your driver on our events last week. He was extremely professional, yet very approachable and easy to work with. We look forward to working with him again   Nike Golf   The group loves your driver. ..He really works to make sure everyone is taken care of..Has made my job easier today..   David, Washington County Visitors Association   "Wow. Amazing, amazing service. THANK YOU!   US Bank   "Dear NW NAVIGATOR, Please accept and extend my appreciation and thanks to you and your staff for the accommodation provided for our recent visit in Vancouver. Our driver was an excellent driver and I would look forward to traveling with him again. Our VP has a charter scheduled with you early in June and if available, requests the same driver for that tour as well. Thank you too for making your new coach available to us! It was beautiful and I had to take a picture of it and the flooring to show here……"   Patricia, National Tour and Travel Company   "Hi, I want to thank you for all your help in setting up our charter transportation from Portland to Seattle on March 16th. The trip was flawless! Our driver, was excellent…on time and very professional. Please let him know the team and coaches were very happy with the level of service he provided. It was wonderful working with you, as well. The booking process was easy and you were always so helpful. We look forward to booking our next trip with NW Navigator!!"   Sincerely, Sherry, Travel Coordinator   "This weekend was awesome, thank you so much for everything you did to make it so effortless. Secondly, although both drivers (relay) were punctual and efficient, we wanted to let you know how pleased we were with (our main driver). He seemed to be very well trained in working with the audio/sound equipment, he was an excellent driver, he made conversation with several people on the trip and even stepped in to help when some of us got stuck in an elevator for about 30 minutes. We were beyond impressed with him and give him the highest review that we possibly can. Make sure to pass on our thanks and appreciation for his service. We were more than impressed. Thanks again for everything, we will be recommending your company to others and look forward to working with you in the further."   Hilary, Portland church   "Saturday went great. (Our two NW Navigator drivers) were fantastic."   Oregon Corporate wine tour   "Hi, Great job! Our driver and was on time, pleasant, professional and fun! Someone left a notebook on the bus and he let us know right away. They are shipping it to me. Thank you for the connection. I will refer you to other event planners here as well and calling on you for our next event with travel needs. Thanks again and Happy New Year."   Annie, Event Planner   "Hi, I got a phone call from Tim this morning, of University of Oregon. He wanted me to know that their trip to Florence on Friday with your company went very well and that he had no complaints. He specifically mentioned the condition of the bus, which he said seemed almost if not brand new. He also was impressed with what he said were wood floors (which is something I've not come across!) and that there were outlets at each row of seats. Additionally he said the driver did a great job and that they left on time and returned on time. I thought I would share this with you as often times the only things we hear are the bad reports, so it's always nice when someone actually bothers to send positive feedback! Thank you for doing your best with this and I hope we have the opportunity to work with you again in the near future. I know I will not hesitate to refer business to you if I have that opportunity as well."   Sincerely, Laura Travel & Cruise Company   "Although it was a long day we had a great time. We enjoyed your 29 passenger bus very much. It was a great transport choice, very comfortable for our trip and helped to make our day very successful. (Our driver) was an extremely professional driver and added much to the enjoyment of our trip. He was prompt, courteous, thorough, flexible with our schedule changes and quirks and attentive to all of group member's needs and requests throughout the day. We would not hesitate to use NW Navigator for any tranprtation needs in the future."   Bill   "Hi NWN Team, We had a terrific trip to Portland and thanks to the excellence service from NW Navigator and our driver – we cannot thank you enough for the seamless service you provided. We look forward to contacting you again in the future for other visits to the Portland area. Thanks!"   Kim, Government Leadership, Washington, DC 20005   "Hi, Just to let you know we had a wonderful trip and thoroughly appreciate our driver and friend…!"   Dave, Christian church group   "Everything was great. Not a single issue."   University Team Coach   "Hi, The trip was wonderful. We all had so much fun and everything went really smoothly. Our driver did a fabulous job for the day. The bus was amazing a worked out very well for us. Thank you so much."   Portland Trail Blazers   "Hi, I wanted to shoot you a quick email to let you know how pleased the bride and groom and their families were with their driver this past weekend. Everything went smoothly, and he was very flexible throughout the night. He was patient when he was waiting and quick to respond when needed — thank you!! Take care."   Christina, Event Planner   "Thank you for very much for the follow up on the gate issue. I greatly appreciate your responsiveness, clarity, and understanding. Those are the hallmarks of the best folks in their respective industry…which NW Navigator most definitely is."   AJ, Local Winery Owner   "Hi, Our courier said that NW Navigator provided wonderful service and that our driver, was fantastic. Thanks"   David, Operations Administrator   ""We had a successful Bus Tour on Sunday and thank you for providing such courteous drivers. I heard good feedback from my manager who rode on the bus." Thank you"   Chris   "I've been meaning to send you a note as to how much we enjoyed having (our driver) on the recent TOUR. Besides his excellent driving over some tricky terrain, he contributed so much of local lore and history to our tour directors. I left a MP3 player with Bose headphones in the seat-back pocket, which (our driver) found and turned in. I appreciated that so much … thanks both to him for turning it in, and to your office staff who tracked me down and saw to its return. So kudos to your driver, your office staff, and your BRAND NEW BUS!!! (SIGH!) As a quilter and a knitter, I've traveled on many tour busses (including the fancy Hampton Jitney on Long Island, NY), and yours by far was one in a million… comfortable, good sound, and beautiful inside and out. Thank you all, and especially (our driver), for contributing to our good trip."   Barbara Aquebogue, NY   "I recently went to an event at a winery with a group of friends; we were fortunate enough to use a NW Navigator Luxury Coach & it made the night out so much more enjoyable! The ride was super comfortable, and we were able to enjoy chatting together as a group on the journey. And best of all, we were able to drink wine to our hearts content and not worry about the trip home. We were able to ride in style and comfort and it just made the night out all the more relaxing to not have to deal with traffic or designating a driver. I totally recommend using NW Navigator for any large group outing!."   Amazing night at winery thanks to NW Navigator   "I just wanted to express my thanks to you both for providing us with an awesome experience last night. Talk about traveling in style, it was so nice to kick back and relax and enjoy a wonderful journey out to the Counter Culture event.Once again, a big thank you.Kind regards."   Nick G   "First class equipment and drivers. Our Portland problems with buses are over."   Mark Hoffmann, CTP Owner/Founder, Sports Leisure Vacations   "Just wanted to let you know what a great time we had with you guys yesterday! Our driver was so nice and the whole day ran extremely smoothly- everything was on time and perfect. We would definitely recommend you to others!"   Torrie, Portland Law Firm   "Hello, Our courier said that NW Navigator provided wonderful service and that our driver, was fantastic. Thanks"   David, Operations Administrator   "I can't thank you enough for all you've done for us on these last two tours. I can vouch by saying that both of these were not within our norm so we had many things thrown at us that we didn't expect. If you need a testimonial or any references to show how you guys go above and beyond please let me know! Thanks again."   Pam   "Hello, Our (NW Navigator driver) was great. The bus was great and he was excellent. Coach and the team really enjoyed having him around."   USC Sports Team   "I recently led a project tour for the 2012 River Rally (on Sunday, May 6th), and your company provided the shuttle and driver for our tour. I wanted to let you know how much we appreciated the driver, We had organized this tour expecting a shuttle about half the size of the bus your driver drove, and right away I knew we were going to have to make changes in the route. Your driver assured us it was no problem. Throughout the ride he was cool-headed, positive, and as friendly as I could imagine possible, despite having to make some quick adjustments on the fly. He received many rounds of applause during the 6-hour tour. Your NW Navigator driver is a class act, and you should be proud he represents your company. Please pass along our thanks to him for doing such a great job and making sure our tour attendees were comfortable and happy."   Matt, City of Portland   "You guys were great to work with! Thanks for everything."   Drew, International Sports Equipment Manufacturer Sales Planning Specialist Team Sports  
  We heard today from the Hallelujah group that is currently out and they and the guide cannot say enough great things about both the coach and driver. I hear that we got a newer Provost with seatbelts and a fantastic microphone system, outside circulated air, etc. etc. etc. We would like to request Egidius, and this coach again for the Top Notch trip later this month.     Your timely turnaround on this has been wonderful! Great customer service and we are looking forward to tomorrow.     Thanks, everything went very well and I appreciate how responsive everyone was.   Joshua Owens   Thank you for all you did towards our Rotary Wine Tour this past Saturday. Hope was delightful and extremely competent. We had a wonderful day.     Hi Joe and Roxanne, I first just wanted to say thank you so much for all that you do. It has been such a sincere pleasure to work with you and your team thus far. Lee is a phenomenal and professional driver. Excellent communication, follow through, easy to work with, and was very helpful/respectful/and polite with all the guests. I couldn't have been more pleased with the overall experience.       Greetings Joe, I want to apologize for not getting this and more to you sooner. We hope to debrief and update you soon, but this has lingered too long. My general impression is that as a team, and individuals, your drivers were great, offering help at every turn and providing great customer service. I'm sure that you know that shuttles are hard to predict, and can wind down quickly. I was pleased, though sometimes embarrassed, to have your guys be the ones still showing up after all the customers were gone. it is confidence inspiring to have drivers on whom one can rely. wasteful perhaps, but better to have an empty bus than an underserved passenger.   Jeff D. Lions Club  
    "Northwest Navigator is an extremely professional operation!"   Greg, Travel Portland   Just wanted to get back to you and let you know that we had a wonderful time on Saturday. Your driver was very courteous, assisted our clients out of the coach and was very polite. He did a great good job and was very accommodating.       Many thanks for working with our group this summer. Your fantastic services and equipment really elevated our students' experience! Have a great rest of your summer.   Libby, Oregon University   I just wanted to personally let you know that your team of drivers we had for this past week were just wonderful to work with! After years in the corporate meeting and event world, I have grown to know that it often is easy to find mistakes, delays, etc. But from myself personally I just wanted to thank NW Navigator for having such a great group of drivers.   Nike Event Planner   By the way the shuttle service was excellent. The driver was great!   Diane, Orthopedic Surgeons     Thank you for all your help! Rick was a great driver and the trip was flawless.   Nike
  "Our driver was fantastic! Very skilled-especially along the very narrow historic highway! He made us feel at ease. The coach was beautiful-clean, comfortable, well appointed. Our driver was very prompt and timely with his arrival at our pick up points, and delivered us on time to our wine tasting destinations. Joe was excellent in helping secure our reservation and gave excellent recommendations for stopping points along the way. Overall – affordable luxury, great service. We can't wait to plan our next trip with you! Thanks!"   D. Carver, Palo Alto CA   "Driver is a jewel-helpful,friendly, courteous, PROMPT, willing to go the extra mile-just a really nice, pleasant person. Kept the coach clean and washed the windows."   Travel group, July 2009   "Great Service! We loved our driver-very accommodating! We will tell all our friends to use your service!"   J. Roth Wedding   "Our driver was a great fit with all of our guests. Thanks!"   C.H. Portland   "Seriously-Our driver was great-knew where he was going-On Time-Bus comfortable!! Please put us down for next year-reminder in July 2010!"   Terry H. Portland Corp trip to Mariner's game   "We will come to you again for our transportation needs! It was a pleasure working with Joe."   H. Shroyer   "The day was extra great and fun because of the bus ride up and back. Thank you for supporting and adding to our day!"   B4SquareChurch   "Excellent customer service and very professional!! Thank you Joe and drivers!"   B. Malcolm, CA University   "Everything was great! My driver was awesome and very accommodating."   E. Horath, Portland Corporation   "Everyone was very pleased with the service on all ends; reserving, confirming, the driver. Thank You!!!"   B. Elliott, SB Council   "Our driver was very friendly and helpful"   A. Lundberg. Sunset Church   "The older folks had a much easier time stepping off and on your bus. The cupholders and footrests were a nice touch."   K Hosford C Country Club     "Our driver was very professional the entire trip he managed his time well and was able to make adjustments to revised schedules in a short amount of time."   L White, Soccer team
    Our NW Navigator driver has been great to work with the last few days, and the (International) team loves the bus! They were in LA yesterday and today, but unfortunately, the bus isn't as luxurious as yours."   NIKE International VIP group   "We really appreciate everything and how amazing you have been with us!"   Portland State University   "One of my teachers wanted me to let you know that whoever your driver was on Friday (2/24 to Fort Clatsop), they did a smash bang up job. Very professional, his GPS coordinates were right on and he was wonderful. Just wanted to pass that on!"   Denise, Director of Admin. Services   "Many thanks for working with our group this summer. Your fantastic services and equipment really elevated our students' experience! Have a great rest of your summer."   Libby   "My sister and I recently went on our women's ministry tour with our Christian Church and your busses were used. My sister asked me to speak on her behalf as well. Our driver was an amazing person!!! He went beyond any and all my expectations of what duties any typical driver has. He was so courteous, friendly, funny, and so many other wonderful things that I cannot even put them all down cause I have work to do and don't have all day. And I am not exaggerating when I say that it could take all day to tell you about how wonderful we thought he was for us. His skill as a driver was outstanding!!!!! I was most impressed by how he stood right outside the bus door and assisted each and every one of us off the buss. He offered his hand if we needed it and was so wonderful with one of the gals who was blind and her dog. He was so patient and gentle with her. You don't even know how much that means to me and my sister. From speaking with so many other of the ladies who went, the all are in absolute agreement with my assessment. Thank you for the privilege of getting to have Michael be our driver!! It was an honor to be on his bus. "   Most sincerely, Suzanne   "Dear Northwest Navigator, I am the Travel Agent that booked the Pacific Northwest tour with my European Travel company We were very fortunate that they booked our motorcoach and driver with you. I want you to know what an exceptional job (your driver) did for us on this tour. I have been leading tours all over the world for the past thirty years and (your driver) was the best driver I have ever had the privilege to work with. He is an extremely skilled driver. His skill and expertise was very evident on the mountain roads with their hairpin turns and switchbacks. The entire group felt very safe in (your driver's) hands. In addition to his superior driving, (your driver) is a kind, considerate, knowledgeable person. When he was able to narrate portions of the trip he filled our bus with the joy of his knowledge and sense of humor. We all wished we had (your driver) as our driver-guide instead of just our driver. I know he could have done both to a high level of excellence. (Your driver)was very kind and considerate to the people in our group. My mother who is 83 needed a bit of help on and off the bus and in walking at times. He made her feel special and not a burden to the group. (Your driver) made a personal connection with each and every participant on this tour and they all loved him. We enjoyed having him join us for meals and just felt he went out of his way to make our trip a joyous one. It was a wondeful experience working with (your driver) and I hope you know what an exceptional employee and person he is. I am considering selling this trip again and would do it if (your driver) could do it with me as a driver/guide. Let's have a talk about that in the near future."   Sincerely, Barbara   "Hello, Thank you very much for a wonderful trip to Spokane. I have worked with the University for ten years and have travel on a good many bus trips. NW Navigator's driver was one of the best drivers we have had. Please pass along our gratitude, he was wonderful. Thank you "   Katie   "I just wanted to thank you for the great bus arrangements. The trip was very enjoyable and the bus was very comfortable. Everyone loved it. We ended up with 46 passengers on the bus and it left room for our coolers and food to be on the bus with us. I also wanted to let you know that (our tour driver) was a very good bus driver! Plus he was a very nice person! We enjoyed having him as our bus driver. We couldn't have asked for a better driver! Make sure you let him know that we appreciated his responsibility as a driver and his being a nice person. Again thank you for your great service!"   Laura, International traveling band   "They're the Best in Portland Oregon!" "We have used this motorcoach company for over a year exclusively — great equipment, safety oriented, good maintenance, reliability plus, professionally dressed and mannered. You can't go wrong with this company and we highly recommend them for both tours and charters."   Columbia Crossroads Tours, Inc.   "We were pleased and would recommend your service to anyone interested in a safe and relaxing ride. If getting there is half the fun, you make it memorable."   Sgt at Arms, P Johns     "We reached out to NW Navigator with short notice, prior to an event and they were extremely helpful and accommodating."   S. Marsden, NIKE
More About Northwest Navigator Luxury Coaches
We specialize in Luxury transportation solutions throughout the Northwest offering the most diverse Full Fleet including Luxury SUV's ,  Executive Mercedes Sprinters, Executive Luxury Mini Touring Coaches, Executive Luxury Mini Coaches and full sized Luxury Motorcoaches.  Northwest Navigator holds the newest fleet of top-of-the-line vehicles outfitted with all of the latest amenities for your comfort including DVD/CD capabilities, power plug-ins, seatbelts, flat screens, kneeling coaches, plush high-back reclining seats with foot rests and wifi on request to name a few. With locations in Portland as well as Bend, Oregon, we care about the Northwest and the environment which is why we were the first motorcoach company on the West Coast to earn our Green Certification.  We didn't stop there; in 2014 Travel Oregon made us a "Forever Oregon" partner for ongoing sustainability, in 2015 the American Bus Association awarded us with the "Green Spirit" award and Travel Portland recognized Northwest Navigator with the Sustainability Award. Other awards Northwest Navigator has been recognized with include: Top 100 Fastest Growing Private Companies 2012-2016, Top Women Owned Companies 2013-2021, Lighthouse Award Winner and  Portland's Best Motorcoach Tour company 2014, 2015, 2016, 2017, 2018, 2019, 2020 and 2021.If you are interested in booking your next group, large or small with the Northwest's finest transportation solution and are interested in making the next trip a memorable journey, beginning from the minute of departure with us.
Northwest Navigator Luxury Coaches - Bus Charter Rental Company