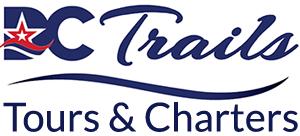 DC Trails, Inc.
8025 Mims Street
Lorton, Virginia  22079
703-360-2800
Website: dctrails.com
Email: This email address is being protected from spambots. You need JavaScript enabled to view it.
FAX:
In business since: 2000

DC Trails is the premier Charter and Tour bus company, serving Washington DC, Maryland, and Virginia. With 66 state-of-the-art motorcoaches, the charter bus portion of the business serves not only the Washington DC, Maryland, and Virginia areas, but the entire continental United States. In one year alone we traveled to 43 of the 48 continental United States.
Additional Locations
955 L'Enfant Plaza Suite 925 SW
Washington, DC,   20024
866-269 9800
More About DC Trails, Inc.
DC Trails delivers the extraordinary service you deserve and safety you have come to expect. We understand that not only meeting but exceeding your expectations is the key to winning and retaining your business.  Thank you for using your Washington DC touring company: DC Trails...the Ultimate Touring Experience!  
DC Trails, Inc. - Bus Charter Rental Company