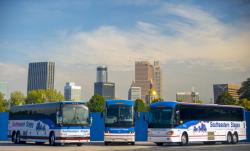 Southeastern Stages Inc.
260 University Avenue SW
Atlanta, Georgia  30315
404 591-2750
Website: www.southeasternstages.com
Email: This email address is being protected from spambots. You need JavaScript enabled to view it.
FAX: 404 591-2745
In business since: 1933

Recipient of the 2019 IMG Safety Award and the 2016 IMG Spirit Award, Southeastern Stages is one of the premier motorcoach operators in the United States, serving Atlanta, GA and the surrounding areas since 1933. We feature a modern fleet of more than 40 attractive and well maintained motorcoaches equipped with state of the art safety technology.   We provide a variety of ground transportation services, including regular bus service, charter coach service and group tour service.
More About Southeastern Stages Inc.
Enjoy some southern comfort. Since 1933, that is the chorus that Southeastern Stages has used to deliver impeccable service to customers in the southeastern United States. Headquartered in Atlanta, Georgia, Southeastern Stages has remained focused on providing reliable and affordable intercity transportation throughout Georgia and South Carolina while connecting travelers to major cities and towns throughout North America. Born in the days of dirt roads, limited passenger traffic, and advertising that was primarily conveyed through word-of-mouth, co-founders Jake Hughes and Lon Shipman devoted their efforts to building a company that would be a major participant in the growing intercity bus industry.  Following a series of mergers, Southeastern Stages would soon be interlining with other regional carriers and Greyhound Lines to form the foundation of a strong transportation network. Today, Southeastern Stages remains a third generation family business known for its old-fashioned brand of customer service that retains the flair for personal interactions.  With a fleet of over 40 motorcoaches, Southeastern Stages' staff of 65 employees serves more than 400,000 people each year over nearly 3 million miles all based from its Atlanta, GA home terminal. Our modern motorcoaches offer features that make them a better choice for nearly a million people who step aboard each year. We offer amenities that will make your trip better than you ever thought possible. The next time you need group transportation, call us first. We are excited to show how much motorcoaches have changed and how we can make your next event or outing even more extraordinary!    
Southeastern Stages Inc. - Bus Charter Rental Company