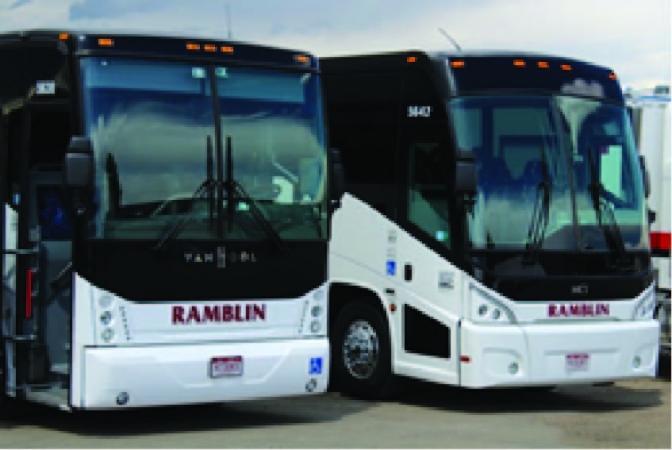 Ramblin Express Inc.
7330 W 52nd Avenue
Arvada, Colorado  80002
303-572-8687
Website: www.ramblin.com
Email: This email address is being protected from spambots. You need JavaScript enabled to view it.
FAX:
In business since: 1993

Ramblin Express operates a diverse fleet of nearly 50 buses out of full-service facilities in both Denver and Colorado Springs.  In addition to providing group charters (locally, regionally and nationwide), we also provide event transportation and corporate shuttle contract services, as well as operate the largest Casino Shuttle service in Colorado. We also offer Fleet Management Services, and a unique Bus Wrap Advertising platform.
Additional Locations
3465 Astrozon Place
Colorado Springs, Colorado  80910-1028
719-590-8687
Ramblin Fleet Services
7501 York Street, Bldg B
Denver, Colorado  80229
303-572-8687
What Our Customers are Saying
"We received a number of comments about how the shuttle service added to the overall wedding experience. You were timely with my requested schedule changes and very accommodating. I appreciated your flexibility and willingness to supply extra information (25 minute travel time to academy chapel) which allowed us to come up with correct departure and arrival times. That information became indispensable in calculating the bus schedules for both the bridal party and wedding attendees. Your buses were clean--inside and out--and very attractive. The drivers were easy to work with professional and showed an obvious desire to please their client. I'm sorry that I can't help you with suggestions for improvement but that is because working with Ramblin Express" was such a great experience. I sincerely appreciate Ramblin Express' part in making our wedding experience what some guests told me was the ""best wedding they ever attended."" """- Phil Falk"On behalf of the U.S.S. Goldsborough Association it's officers members spouses and guests I would like to take this opportunity to express our deepest appreciation for the fantastic experience we all enjoyed during our recent stay in Colorado Springs. Our reunion which was our tenth was indeed a tremendous success and Marcus Howard our driver for all of our trips played a significant part in that success."- Patrick L. Taylor President - USS Goldsborough Association"Thank you so much for the outstanding service provided by Ramblin' Express. The many bus moves went so smoothly thanks to you all -- you Brenda the drivers greeters and others. And they all were very professional and a joy to work with on those long days of bus transfers. I would highly recommend Ramblin' Express and look forward to working with you all again."- Doris Cousens Academy of Applied Science"I just wanted to let you know how much we appreciated the excellent service of your company and your drives this past weekend at the American Youth Horse Council Symposium. I helped coordinate the tour to CSU on Friday and assisted with the shuttle from the NWSS grounds on Sunday. Your drivers were excellent courteous and always on time. It was a pleasure working with them and just wanted you to know. I had made the initial contact with your company and then Cindy Schonholtz our Executive Director made the final arrangements. I appreciate the excellent customer service we received and I will recommend your company to others who are in the market for charter services in the future"- Kent L. Sturman Executive Director"Thank you for a great experience with Ramblin Express from start to finish. Troop 787 from Winter Spring returned home early this morning and they said their entire time with Ramblin Express was perfect. The bus was really nice inside and out seats were very comfortable and your driver was very knowledgeable and a great driver. The scouts and leaders really appreciated having such a nice ride throughout their trip. Their driver was Mike and he was truly the best!!!! I know your company name will be passed along whenever we know any group is headed your way. Your business knows how to give their customers true peace of mind while planning and traveling. With sincere thanks and satisfaction."- Troop 878 Winter Springs FL
More About Ramblin Express Inc.
Whether you want to organize a charter trip for a large group or you simply need an airport transfer, the friendly team at Ramblin Express offers value-driven services with an emphasis on safety, professionalism and courtesy. Our mission is to consistently provide the safest most convenient passenger transportation services in a friendly professional manner. Contact us today to learn how Ramblin Express can help you with your groups local, regional, or national inbound or outbound transportation needs. Or if you would like to request a quote click here https://ramblinexpress.com/request-a-quote/ 
Ramblin Express Inc. - Bus Charter Rental Company