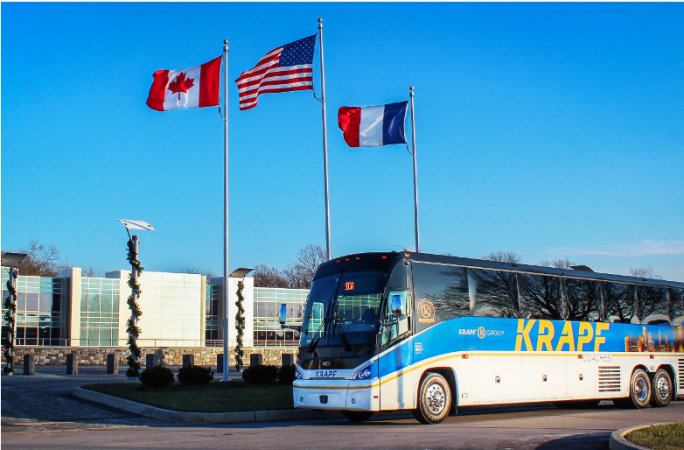 Krapf Coaches Inc.
1060 Saunders Lane
West Chester, Pennsylvania  19380
610-431-1500
Website: www.krapfbus.com
Email: This email address is being protected from spambots. You need JavaScript enabled to view it.
FAX: 610-431-6018
In business since: 1942

Krapf's Vision is to provide the best passenger transportation anytime, anywhere. Krapf Coaches mission is to build on our reputation of superior passenger transportation. Everyone within the Krapf Bus Companies is committed to providing safe, high quality, reliable service. Each of us recognizes the importance of fulfilling every customer's changing transportation needs. We will continue to develop and grow our company, strengthen our position of leadership and implement efficient solutions to the dynamic challenges of our industry.
What Our Customers are Saying
" We just wanted to say thank you for everything this past weekend. We had a great time. The bus and  our driver, Ronny, were both fantastic. Ronny was incredibly friendly, nice, accommodating, and helpful and it meant the world to us. " UPenn Law   " Excellent in all categories! Thank you!" Southern Chester County YoungLife   "Jim did a really great job. Friendly and professional- he was a great driver. Did a real nice job getting us there and back safely. Really great guy- he did a nice job." VFW Manager              - West Chester UniversityMalcolm Butler was AWESOME (actually beyond awesome). If he's available that day we would love to have him be our driver (and anytime in the future – I felt like I had a third coach with me and the kids loved his support). Tina Tharp- WCU Tennis
More About Krapf Coaches Inc.
The Krapf Bus Companies: located in the greater Philadelphia area- Krapf's has been owned and operated by the Krapf Family for 75 years.  Now entering our 3rd generation of family leadership, the companies continue to provide the best, safest and most efficient group transportation to anyone in the Mid-Atlantic Region to anywhere in North America or Canada.  Our Fleet of Motor Coaches ranging from 31 to 54 Passenger capacities are all equipped with DVD players and WiFi capable.  For the smaller groups, shuttle vehicles are available.  All of our equipment is operated by our professionally trained drivers with the maintenance and staff to back it up.
Krapf Coaches Inc. - Bus Charter Rental Company