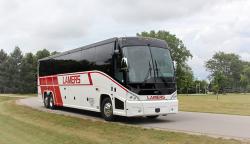 Lamers Bus Lines Inc.
2407 South Point Road
Corporate Office
Green Bay, Wisconsin  54313
920-496-3600
Website: www.GoLamers.com
Email: This email address is being protected from spambots. You need JavaScript enabled to view it.
FAX: 920-496-3619
In business since: 1944

Since 1944, Lamers Bus Lines has been your Passenger Professionals. Lamers provides motor coach, school bus, limo coach, van and medical transport services in Wisconsin, Florida and Michigan's Upper Peninsula. Choose Lamers for group charters, shuttles, school transportation, athletics and activity buses, wedding transportation, Brewers, Badgers and Packers bus trips, and more. In addition, Lamers Tour & Travel offers motor coach vacations and custom tour planning services. Lamers Connect serves Wisconsin with intercity bus routes. Lamers Bus Lines strives to exceed every passenger's expectation; not merely meet them. 
What Our Customers are Saying
I recently travelled to Chicago with 25 high school students for a 3-day visit on a Lamers bus.  Our driver was Sharon Rudolph.  She was phenomenal!  She was incredibly personable, told great stories, interacted positively with the students, and was a delight to have around.  And, of course, she kept us safe!  I just wanted to make sure she gets the credit she deserves.    I hope we have a chance to travel with Sharon again in the future.  We were in great hands!- Dan Appleton ChoirQuick note from us. We had a wonderful trip to Milwaukee last Friday. DK did an excellent job taking us to the various destinations throughout the day and was wonderful to work with!  Great work by DK with our international students. He definitely made our day in Milwaukee so much more enjoyable!! THANK YOU and a big THANK YOU to DK!- Jana - St Norbert ClgMy colleague and I recently took a trip to Orlando Studios with your drivers, Al, Mark, Larry & Doug. We wanted to reach out and tell you how impressed we were. Our drivers were above and beyond accommodating with our itineraries, playing tour guide and pointing out monuments while on the road, planning stops, interacting with our students and chaperones and were great to just sit and chat with. There was lots of humor!  This experience solidified our intentions to use Lamers for all of our school trips in the future. Please pass along our gratitude to their supervisors!- Brianna - Waupaca HS... I wanted to mention that your drivers are the best! Our tour guides spoke very highly of them. They could not have been more accommodating and friendly. I interacted with many of the hotel and airport shuttle drivers and they were all outstanding. You must have an excellent training program at Lamers!- Julie - Director of Visitor ServicesThank you for taking such good care of our group. From the first call I made to you to organize the number of transports pick ups/drop offs payment to the last calls to make changes you handled our requests perfectly. Special thanks to our driver Bill for his punctuality safe driving and general good humor! He did a wonderful job for us. You can expect a call from us if we return in the future.- Dorothy - Consulting Group
More About Lamers Bus Lines Inc.
Lamers Bus Lines is Wisconsin's largest transportation solutions provider, established in 1944. In addition, Lamers is one of the top 10 operators in the United States and is the 14th largest motor coach operator in the nation. Lamers operates from more than 35 locations in Wisconsin, one in Michigan's Upper Peninsula and one location in Central Florida, with a large fleet of vehicles, and its own meticulous maintenance staff. Safety and Training are paramount for staff and drivers at Lamers Bus Lines. Lamers employs its own full-time safety director and Lamers specially trains its drivers to meet stringent, above-average standards. Lamers has its own mobile driver training simulator to train drivers for driving situations they may not regularly encounter.   Lamers Bus Lines has the most comprehensive back-up plan. Lamers' staff is on-call 24 hours a day, seven days a week. Lamers has the highest ratings from the Department of Defense and Department of  Transportation, and is an approved carrier by the Transportation Safety Exchange. Lamers carries more than the government mandated amount of liability insurance. Lamers Bus Lines provides unparalleled service at competitive rates! Lamers maintains a standard exceptional style of service with the most experienced, knowledgeable, and efficient charter consultants. Lamers' repeat customers include professional and semi-professional sports teams, United States military, area corporations, municipalities, hospitals, universities, service organizations, more than 40 Wisconsin school districts, and many more. Lamers also provides tour planning services for private groups.  
Lamers Bus Lines Inc. - Bus Charter Rental Company