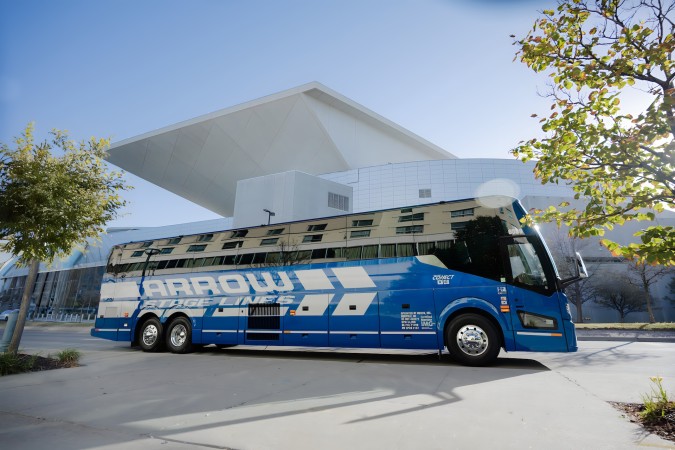 Arrow Stage Lines
4220 South 52nd Street
Omaha, Nebraska  68117
402-731-1900
Website: www.arrowstagelines.com
Email: This email address is being protected from spambots. You need JavaScript enabled to view it.
FAX:
In business since: 1928

Arrow Stage Lines is a leading motorcoach company that offers exceptional transportation services across various destinations. With a strong commitment to safety, reliability, and customer satisfaction, Arrow Stage Lines has become a trusted name in the industry. Whether it's group travel, corporate events, school trips, or private charters, they provide top-notch motorcoaches equipped with modern amenities and professional drivers. With a fleet of state-of-the-art vehicles, Arrow Stage Lines ensures comfortable and convenient journeys for passengers. Each motorcoach is meticulously maintained and equipped with plush seating, ample legroom, climate control, onboard entertainment systems, and Wi-Fi connectivity. Their commitment to eco-friendly practices is evident through their fuel-efficient coaches and sustainable operations. Arrow Stage Lines prides itself on its experienced and friendly team, who go the extra mile to ensure a smooth and enjoyable travel experience. Their knowledgeable drivers prioritize safety and exhibit exceptional driving skills, making passengers feel at ease throughout the journey. Whether it's a short local trip or a long-distance adventure, Arrow Stage Lines offers customized travel solutions to meet the specific needs of their clients. They specialize in group transportation for schools, universities, corporate events, sports teams, and social gatherings. Their dedicated staff assists clients in planning itineraries, accommodating special requests, and ensuring a seamless travel experience from start to finish. Choose Arrow Stage Lines for reliable, comfortable, and stress-free motorcoach transportation that exceeds expectations. With their dedication to quality service and customer satisfaction, they continue to be a premier choice for group travel needs, making every journey an unforgettable one.
What Our Customers are Saying
Arrow Stage Lines makes my job so easy because I know the drivers are very pleasant and professional. I organize trips all over the United States and some times have to use bus lines in other cities. It always makes me wish I could have Arrow Stage Lines in every city where I travel.- Tom BellI just wanted to drop you a note to let you know how incredibly please we were with the service we received from Arrow Stage Lines. From our introductory phone call through the series of date changes we were greeted with nothing less than a friendly professional accommodating and knowledgeable staff. Your drivers got all of our attendees to and from the event safely and quickly and allowed them to focus on the event rather than finding parking downtown. I would highly recommend that any organization looking for a quality transportation provider with exceptional customer service put Arrow Stage Lines at the top of their list.- Michelle StevensJust wanted to send a shout out to Arrow for always taking care of our school in terms of your terrific coach buses and customer service. We have been using Arrow for the last 8 years for many of our school's excursions. We have had nothing but the best customer service and the friendliest of drivers. Your coach buses are always clean and extremely comfortable to ride in.- Jeffrey KurtzYour Company was involved in the big move" during ConAgra's National Sales Meeting. It is my pleasure to let you know that everything went very well. We had 15 motorcoaches and some shuttle buses involved. These vehicles represented a total of four companies. All drivers were working together as a team and they made sure that we didn't have any bumps on the road. I got the feeling that everybody was motivated and their smiles and willingness to make a good impression made us succeed."""- Michael AbbottI recently traveled for seventeen days on your Setra motorcoach with the Route 66 trip. I just want to thank your company for a superb motorcoach and just as importantly a faultless driver.  I have driven fuel tankers for nearly forty years and therefore think I am the only safe driver on the road. Wrong I have met my match!! There were absolutely no moments in all of the 2500 plus miles we covered. I am from the UK and we discussed the trip with like minded Aussies and Kiwis on the trip and with all our experience couldn't come up with a bad word about the driver or your motorcoach!- Shaun Beeching
More About Arrow Stage Lines
Arrow Stage Lines is a premier motorcoach company that has been at the forefront of the transportation industry for decades. With a rich history and a commitment to excellence, Arrow Stage Lines has established itself as a trusted name in providing top-quality and reliable transportation services.

At Arrow Stage Lines, our primary focus is on delivering exceptional customer experiences. We understand that every journey is unique, whether it's a school field trip, corporate event, sporting event, or a group vacation. That's why we go above and beyond to ensure that every aspect of our service meets and exceeds our customers' expectations.

One of the pillars of our success is our unwavering commitment to safety. We prioritize the well-being of our passengers above all else. Our fleet of modern motorcoaches is meticulously maintained to the highest standards, adhering to rigorous safety protocols and industry regulations. Each vehicle undergoes regular inspections and is equipped with advanced safety features to provide a secure and comfortable travel experience.

Our motorcoaches are designed with passenger comfort in mind. Step on board, and you'll find spacious seating with ample legroom, plush upholstery, and adjustable armrests for ultimate relaxation. Climate control systems ensure that the temperature inside the coach remains comfortable throughout the journey, regardless of the weather outside. For entertainment and connectivity, our motorcoaches are equipped with onboard entertainment systems, Wi-Fi connectivity, and power outlets, allowing passengers to stay entertained and connected during their travels.

We take pride in our team of experienced and professional drivers who are the backbone of our company. They are carefully selected and undergo extensive training to ensure they possess the necessary skills and knowledge to provide a safe and enjoyable journey. Our drivers are known for their friendly demeanor, professionalism, and exceptional customer service. They are dedicated to making each trip memorable by offering helpful assistance, sharing local knowledge, and going the extra mile to accommodate passengers' needs.

At Arrow Stage Lines, we understand the importance of sustainability and environmental responsibility. We actively strive to minimize our carbon footprint by investing in fuel-efficient coaches, adopting eco-friendly practices, and promoting responsible travel habits. We believe in preserving the beauty of our planet for future generations and actively seek ways to reduce our impact on the environment.

In addition to our commitment to safety, comfort, and sustainability, we offer a wide range of travel solutions tailored to the specific needs of our clients. Whether you require transportation for a school field trip, a corporate event, a wedding, or a group vacation, our dedicated team will work closely with you to understand your requirements and create a customized itinerary that meets your needs. We handle all the logistics, allowing you to focus on enjoying your journey and creating lasting memories.

With Arrow Stage Lines, you can trust that your travel experience will be seamless, reliable, and unforgettable. Our attention to detail, dedication to customer satisfaction, and passion for excellence set us apart from other motorcoach companies. Discover the difference of traveling with Arrow Stage Lines and embark on a journey that will exceed your expectations.


Arrow Stage Lines - Bus Charter Rental Company