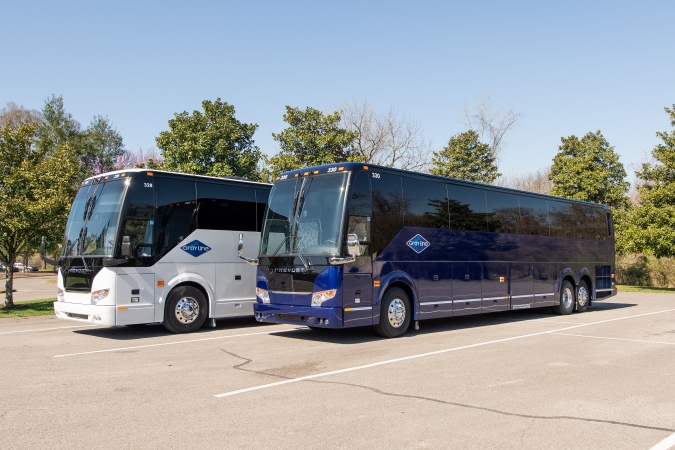 Gray Line Tennessee
3009 Dickerson Pike
Nashville, Tennessee  37207
615-921-4000
Website: www.graylinetn.com
Email: This email address is being protected from spambots. You need JavaScript enabled to view it.
FAX: 615-921-4439
In business since: 1973

In 2023, Gray Line Tennessee is proud to celebrate 50 years in business! We can meet any need that your group may have while traveling through Tennessee. We provide a premium transportation experience and we welcome visitors to our region with authentic hospitality and service.
What Our Customers are Saying
We did this evening tour the night we got into Nashville and it was a great way to take a trip downtown, drive by all the sites and get our bearings of the city. We were then able to make a semi plan of what we for sure wanted to do and where we wanted to go. Remember that you have to buy tickets ahead or schedule most tours (of anything) in Nashville and call ahead to make sure places are open (lots of special events happen there!) So this tour gave us a great lay of the land and kickstarted an amazing week! Bryan (a Nashville native!) was wonderful and Jacks BBQ didn't disappoint. You can go wrong with this tour, I would just recommend doing it at the beginning of your stay.- icegirl515 - Trip AdvisorWe took the Nashville show tour and got the celebrity homes and Nashville (city) tour all in one! Tour guide was awesome and the tour was well worth the money and time!! Highly recommend!!- nbsmithjr - Trip AdvisorOur family, four adults and a 3-year old child, visited Nashville for the first time. The driver if the first leg was funny and very knowledgeable. The driver and moderator of the second bus was funny and went the extra mile to make sure that everyone was comfortable and that we got our stickers easily. I would definitely recommend Gray's to my friends and family for future trips.- lorirbarrett1 - Trip AdvisorOur trip to Nashville was amazing due in part to Grey Line tours. We actually took 3 events in and our tour guides were very good and informative. We loved Nashville and the tour company was worth every penny. We did the Opry great seats, Xmas light tour and Lotz house, and showboat tour which I really didn't think it would be that fantastic but it was awesome. We did the lunch cruise the food was decent but the show was memories we will remember forever.- D1006CImargaretm - Trip AdvisorWe took this tour with a group of 9 and we had the whole bus to ourselves! Our guide was FANTASTIC and even took requests to see if he could show us some places that were not "scheduled" tour stops. We really had a great time and loved everything we saw!- Beth F - Trip Advisor
More About Gray Line Tennessee
Native to Nashville, Gray Line Tennessee has been the local transportation and sightseeing expert in our city for more than four decades. Our company was founded on the premise of local sightseeing around the home of country music. We have stayed true to our local roots & traditions over the years and with the ever-changing scenery of our Little, BIG town named Nashville. It all began in 1973, brothers Chris and Dennis Levering each started a local sightseeing business that served the hotels and motels of the city. After a few years, the brothers combined forces and named the company Country and Western Tours, which was one of the first major sightseeing and transportation companies around. It was from here when the sparks started to fly. In 1988, the company purchased the owning rights to Gray Line Nashville and morphed into a company which grew with the help of country music topping the charts and the iconic Gray Line name heard around the world. Over the next 30 years, Gray Line Tennessee experienced unprecedented growth, doubling the size of the business and forming industry relationships in tourism and hospitality which still exist today. It has been a great run and we are only getting started. At Gray Line Tennessee, we strive to embrace a culture of excellence that is built around developing elite drivers, offering the highest quality fleet and maintaining a tireless commitment to safety. We will always honor the Company's proud local history and heritage, and we will passionately uphold the reputation of our global brands and affiliations. We are proud of our local roots, proud of our company heritage, and proud of our city. We know transportation. We know Nashville.
Gray Line Tennessee - Bus Charter Rental Company