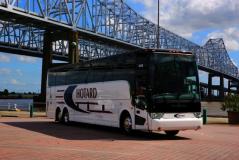 Hotard Coaches
2838 Touro Street
New Orleans, Louisiana  70122
1-800-356-6831
Website: www.hotard.com
Email: This email address is being protected from spambots. You need JavaScript enabled to view it.
FAX: 504-944-8650
In business since: 1935

Calco Travel and Hotard Coaches are a family owned business providing complete ground transportation service in the Gulf South for over 75 years. We offer 25 55 and 56 passenger vehicles for travel locally or across North America. Complete tour packages are available.
What Our Customers are Saying
I just wanted to drop you a note to let you know how wonderful our trip to Nashville was! Our great experience was due, in large part, to Mr. Tom Smith. Not only are his driving skills excellent, but his attention to detail and efficiency helped our trip to run smoothly. He has an appreciation for the work we do with our youth group and we love having him on our team during our travel experiences.  - Shannan W.Just got back from a 5 day New Orleans and Lafayette trip with 116 students and 12 chaperone /teachers. 3 buses!! I cannot say enough great things about my drivers! They truly are some of the best I have seen in awhile! Brymon Brooks, Derrick LaBeaud and Dorian Byrd. They treated the kids with respect and really interacted with them! They all three worked so well together! Brymon was my lead driver and went over and above for me. One of the girls left her wallet on the bus after we got to the airport. He went back to the yard, found it and brought it to me at my hotel. All on his own time....so impressed with all three of them and the service I got from Hotard! - Tish L.In the last 4 years, my NJROTC program has been to Florida 3 times. This year was the first time Hotard was our Busline and their service was top notch. Our Driver Derrick LeBeaud was AMAZING. He went above and beyond in his service and professionalism. It seemed like he really loved his job and being a part of the Hotard team. His hospitality and genuineness toward my cadets added to the memory of our trip. I give Derrick and Hotard my highest recommendation and praise. - Frank P.Bon Ami Tours out of Jennings, La. has used this bus line many many times over the last 28 years. Huey Pursley, Lawrence Minnix and Jeremy Evans are the best of the best. Excellent drivers with wonderful personalities to make everyone on the tour feel as though they are our family. Highly recommend HOTARD. - Sandra G.Our garden club used Hotard Coaches recently. We couldn't have had a better experience. Faye Feig was my contact person and was extremely helpful. Our driver Daniel Boulet was very accommodating and professional. The bus was very clean and comfortable. We will use them the next time we take a trip. Thank you- Kathy G.
More About Hotard Coaches
Calco Travel and Hotard Coaches provide customers with more than 100 years of combined experience in the transportation industry.As two brands operating under a single local ownership Calco Travel and Hotard Coaches are two of the most diverse destination management companies in the Gulf Coast Region.Calco Travel and Hotard Coaches are currently owned by Callen and Coleen Hotard. Calco Travel began in 1935 as Hotard Bus Line by Callen's grandfather Etienne Hotard.It was originally a line run service connecting the Eastbank River Parishes to New Orleans.The company owned three buses that would make the daily trips into the city and occasionally do charter work on the weekends.Etienne eventually passed the company down to his son Sidney Callen's father.Under the second generation ownership the company continued to grow in popularity.There was such a demand for this type of service that a second line run company was eventually started by other members of the Hotard family to connect the Westbank River Parishes with New Orleans.This company Hotard Coaches was headquartered in New Orleans. Callen began working for his father driving the line run service to New Orleans during the week and charter work on the weekends.In 1986 Callen and his wife Coleen began a travel agency Calco Travel.It was formed to provide packaged tours and to also handle operations for the Hotard Bus Line on a contract basis helping the family business to go after more charter work. By the late 1990's it was becoming increasingly difficult to have two bus companies with the Hotard name.Hotard Bus Line decided to change their name to Premier Motorcoach.In 1999 the Hotard Family sold their company Hotard Coaches to Greyhound although it still operated under the Hotard name. In the spring of 2001 Callen and Coleen purchased Premier Motorcoach from his father.They still operated Calco Travel and decided to change Premier to Calco Travel so that both companies would be in one name. In 2007 Callen and Coleen purchased Hotard Coaches from Greyhound once again bringing it under family ownership. Today Calco Travel and Hotard Coaches operate over 70 vehicles employ over 150 people and have 4 different locations throughout the Gulf South. In addition to IMG Calco and Hotard are also members of various industry organizations including: Motorcoach Council South Central Motorcoach Association New Orleans Metropolitan Convention and Visitors Bureau Baton Rouge Area Convention and Visitors Bureau Lafayette Convention and Visitor Commission United Motorcoach Group American Bus Association Calco Travel and Hotard Coaches both do a tremendous amount of contract work including emergency response contracts crew changes and most of the Universities in our Region.Hotard Coaches currently has the LA Swift contract which is a state contract that runs a shuttle between Baton Rouge and New Orleans.Most recently both companies have been contracted to provide transportation for the workers helping to clean up the oil spill. """
Hotard Coaches - Bus Charter Rental Company