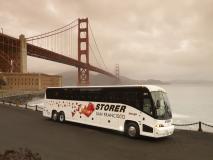 Storer San Francisco
300 Toland Street
San Francisco, California  94124
855-858-0057
Website: www.storercoachways.com
Email: This email address is being protected from spambots. You need JavaScript enabled to view it.
FAX: 209-758-4041
In business since: 1952

Storer San Francisco is a third generation, family business, founded in 1952. We are a unique transportation provider in that we have provided transportation services under the same ownership for the past 71 years. Storer has grown into an industry leader and we're committed to providing the highest level of motor coach services possible to our customers. Safety and comfort are our foremost concern. Our modern, clean motorcoaches are meticulously maintained by expert maintenance personnel to insure your trip is worry free. Our friendly, courteous drivers have made Storer a favorite among travelers. They are true professionals who have extensive knowledge in all aspects of motorcoach travel. Safety is without a doubt the most important aspect of our transportation services as we are entrusted in transporting life's most precious cargo.   
Additional Locations
3519 McDonald Avenue
Modesto, California  95358
2095218250
More About Storer San Francisco
Our fleet consists of deluxe MCI and Van Hool motor coaches equipped with the finest features for comfort and relaxation. Our 54 passenger MCI coaches are a rolling state of the art masterpiece with many special features such as the spiral staircase entryway to aid in your loading and unloading experience. Our 46 passenger coaches are 40 feet long and therefore can travel on most all California restricted scenic highways. Our 46 passenger Van Hool coaches are made in Belgium and offer the finest European styling. We also have 23 passenger deluxe mini charters that are perfect for that in between size group looking to have some fun while traveling.  No matter what the occasion rest assured you can count on Storer Coachways to meet all your transportation needs. """
Storer San Francisco - Bus Charter Rental Company