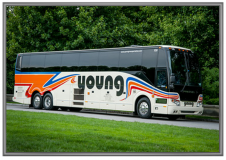 Young Transportation
843 Riverside Drive
Asheville, North Carolina  28804
800-622-5444
Website: www.youngtransportation.com
Email: This email address is being protected from spambots. You need JavaScript enabled to view it.
FAX: 828-252-3342
In business since: 1939

Young Transportation is a third generation family-owned business and has been in operation since 1939. We operate a modern fleet of Prevost, MCI, Setra and Temsa motor coaches with seating capacity ranging from 12, 30, 47 to 56. Our fleet is equipped with amenties such as DVD with multiple monitor video systems, Smart Drive, restroom, climate control, PA system, WIFI, Satellite, seatbelts and electrical outlets.
What Our Customers are Saying
I have worked with Young Transportation and Tours through my profession in the school system and my summer work as a camp director for approximately the past 15 years. In all those years I cannot think of a time that I have been disappointed upset concerned or frustrated with Young their staff or their equipment. They run a top-notch professional business that doesn't lose that personal connection and family feel. Their equipment is clean and well-maintained their drivers are pleasant and professional and their charter staff is quick to help and willing to do what it takes to meet our needs. I truly appreciate the relationship that I have with Young and would highly recommend them to anyone.- Steve SandmanHello my name is Danny Hill Recreation Superintendent of the Bristol Virginia Parks and Recreation Department and also the Director of the Bristol Virginia Senior Showchoir. The latter title is the one which brought me in contact with Young's Transportation while booking charters for the travels of our group. I have been associated with Youngs for over 8 years as they are our sole traveling connection. The Showchoir travels all over the southeast with 55 Senior Adults ranging in ages of 58 - 89 performing stage shows and musicals as you would see in Pigeon Forge TN. and Branson MO. In all the miles we have ridden with Youngs there has never been one moment of displeasure. The busses are always clean and have the latest equipment and technology on them. Our seniors particulary like the TV's and Satellite connections along with the DVD player. When you travel with Youngs you will also find a knowledgable driver with personality which is not always the case with some tour companies. As a matter of fact their drivers have become our adopted family and even at times havve been known to step in and perform with us when we have had someone out in a particular act. You will not go wrong or be disappointed if you choose to use this wonderful company. Even from your first contact on the phone with them you will hear the care and concern in the voices of their office staff and booking agents. In closing all I can say is what are you waiting for....call and book your next charter with a tour company that cares as well as delivers!- Danny HillEvery trip was great. All of the drivers that drive for us this past summer were very nice and easy to work with; and all conducted themselves in a professional manner. Taking the charter buses was a great experience for the young men on our team. This is something that many of them will never get to experience. And without your support it would not have been possible. I also wanted to tell you how great it was working with Donna and Melissa this past summer. They were very organized and made sure all of our trips left on time and the scheduling was incredible. I know you are lucky to have both of them working for Young Transportation.- Coach Ray Gill/Henderson County American Legion Post 77 Baseball
More About Young Transportation
.
Young Transportation - Bus Charter Rental Company