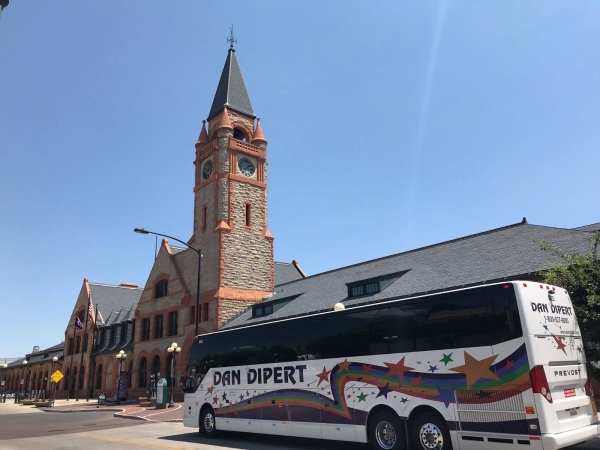 Dan Dipert Coaches
7301 W. Pioneer Parkway
Arlington, Texas  76013
817-543-3700
Website: www.dandipertcoaches.com
Email: This email address is being protected from spambots. You need JavaScript enabled to view it.
FAX: 877-543-3745
In business since: 1972

Dan Dipert Coaches is your choice for the highest quality motorcoach service available anywhere. Dan Dipert Coaches is a family-owned and operated company with a modern fleet of 56 passenger Prevost coaches all equipped with the standard amenities multiple monitor video system with DVD and tinted windows with retractable shades. Fourteen passenger vans are also available for charter. Dan Dipert Coaches is committed to providing exceptional service and value to our customers. Our drivers are trained customer service representatives tour friendly and are dressed professionally in coat and tie. We transport the major sports teams and universities in the Dallas/Fort Worth Metroplex as well as groups just like yours!
What Our Customers are Saying
We had a great experience with our trip this week. The driver was very helpful courteous and most importantly a great and safe driver. It's always a pleasure to do business with you guys. Thank you so much!- Children's Medical Center of DallasI just wanted to thank you and your team for an outstanding job during last weekend's NBA All Star Game in Dallas. Your drivers were part of a record breaking evening on Sunday and the transportation success was a tribute to their professionalism and commitment to getting the job done right.- Brad K.On behalf of Ohio University Football I would like to personally thank you and your outstanding staff for a great experience with your company. From top to bottom our service was first class. Every driver was extremely courteous and friendly. They were very professional and treated us first class. The buses were clean new and of the highest quality. Your staff should be commended for their outstanding service and professionalism. We truly enjoyed our travel and will recommend your company to all. We wish you all the best. Bleed Green!- Ohio UniversityWe had a great time in Florida last week and I just can't tell you how much Lewis made a difference for us. He was wonderful and as soon as I determine our destination for next summer I am calling to get it on his calendar. I love DAN DIPERT Coaches. If anyone wants a reference you tell them to call me; I will give them an ear full of how GREAT you guys are. I am a customer for life. Thank you and the whole staff for making our trip the best it could be.- Mimosa Lane Baptist ChurchMy daughter's 4th grade class went to Austin last Friday. I was so grateful for their safe journey. More-so I was grateful that prior to the trip the person who answered your phones graciously took my call and answered my questions about your company's drivers and bus safety records. I wasn't made to feel like I was doing the wrong thing and it was almost as if it was expected. Thanks! I appreciate that!- Jackie Rockwall Texas
More About Dan Dipert Coaches
Visit  our website for more information about our motorcoaches drivers and safety record.  Dan Dipert Tours is the largest escorted motor-coach tour operator in the Southwest United States. Tens of thousands of customers have enjoyed our worry free escorted vacations since 1972.   If your interest is in tours of the great state of Texas visit  TravelToTexas.com.  We can also take the worries and hassles out of student travel by doing as little or as much as you like from simply chartering the motorcoach to planning every detail of your student trip.  Find out how our preferred relationships with hotels restaurants and activities can save you time trouble and money by visiting LearningTrips.com.  
Dan Dipert Coaches - Bus Charter Rental Company