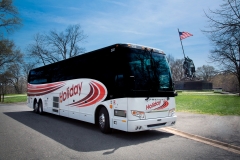 Holiday Tours Inc.
10367 Randleman Rd
Randleman, North Carolina  27317
336-498-9000
Website: www.TrustHoliday.com
Email: This email address is being protected from spambots. You need JavaScript enabled to view it.
FAX: 336-498-2204
In business since: 1978

Holiday is a family owned and operated company that has been providing safe and professional charter transportation and group tour services since 1978. Traveling over 28,000,000 miles in the last 10 years, let us show you the difference 44 years of experience makes and what Experience! Excellence! is all about.
What Our Customers are Saying
Just recently I went on my first bus tour. Your company provided the bus and our driver was a gentleman Tom. From the beginning of the tour and through all the traffic mazes rain road idiots Tom never seemed perplexed aggravated and kept his demeanor throughout the trip. He was always polite courteous and made the trip most enjoyable for my wife and me. In fact he made driving the bus look like a cake walk.- Carl Grantham Sr.Lewis was recently my lead driver on a four coach movement to Washington DC. He did an outstanding job! He also looked after the three buses which followed him. He gave excellent instructions to the other drivers and at one point even led a bus to our next stop to ensure that they would not miss their scheduled appointment. When it was necessary to make minor schedule changes this was not a problem. Teachers and chaperones were as pleased with his services as I was. A driver such as Lewis certainly makes my job much easier and gives me one less thing to worry about.- Beverly MagnesJust want to let you know how much our group enjoyed your motorcoach and Driver, Roy. Our folks really appreciated the extra leg space cup holders excellent ride visibility of the Prevost tables in back and excellent audio/video equipment. Our driver was one of the most professional drivers we have ever had. He was extremely well like by all. He always had a safety-first approach (our top priority) and was courteous and friendly to all. If we do future coach trips we want Roy as our driver. We enjoyed working with you and will certainly call you on future needs.- Alfred SalterI was recently in Greensboro or a convention at the Coliseum. Holiday Tours was taking care of the transportation for the group and did a great job. I would especially like to recognize a driver named Doyle. He took especially good care of his passengers making sure that each and every individual made it to his or her destination quickly and efficiently. Being that I am an exhibitor I ended up traveling against the crowd on several occasions and he personally made sure I made it back to my hotel in a timely fashion each and every day. Doyle was also a great ambassador for Holiday Tours. In my work we use transportation companies quite a bit for incoming conventions to our city. I understand the logistics and details that are behind a transportation plan. Doyle not only executed the plan brilliantly but after learning who I worked for was a great salesman for the company. He truly is an asset to Holiday Tours.- Z. A. Davis Convention Services Manager
More About Holiday Tours Inc.
Since 1978 Holiday has grown into one of the largest bus charter and tour providers in North America by offering outstanding service at a value price. What began as a small provider of group tour opportunities in central North Carolina now provides charter service from Washington to Atlanta with trips ranging from airport shuttle services to cross country group tours. We operate a fleet of 50-56 passenger Prevost motorcoaches the top of the line in the bus industry as well as mini-coaches and passenger vans. Standard features on all coaches include: 2-way radio/telephones, video systems, restroom, air-conditioning, tinted windows, and reclining seats. Lift equipped coaches are also available.
Holiday Tours Inc. - Bus Charter Rental Company