Travel in Style with a Charter Bus Rental in Hartford, CT
From the Bushnell Center for the Performing Arts to the Connecticut Science Center, the Hartford area has a lot to offer a group exploring the region. Yet, transportation can make or break an outing, which is why it's essential to choose a reliable and comfortable mode of transportation. This is where a charter bus rental in Hartford, CT comes into play.
Fill out the quote form today and find out how we can be your Hartford group transportation solution, or call 888-447-3466.
IMG Motorcoach Companies Serving Hartford, CT
583 South St.
New Britain, Connecticut  06051
800-229-4879
Website: www.dattco.com
Email: This email address is being protected from spambots. You need JavaScript enabled to view it.
203 Patriots Road
PO Box 415
East Templeton, Massachusetts  01438
978-632-3894
Website: www.wilsonbus.com
Email: This email address is being protected from spambots. You need JavaScript enabled to view it.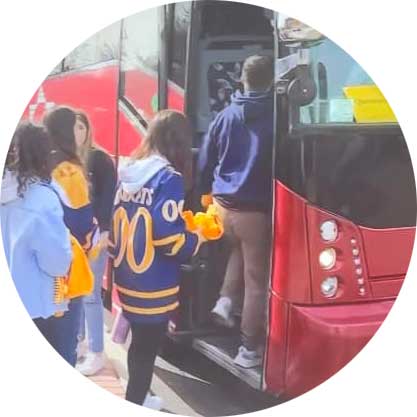 Reliable Transportation for Hartford's Top Destinations
Chartering a bus rental in Hartford, CT has many benefits that can make your trip not only efficient but also enjoyable. First and foremost is the convenience of traveling together as a group. When traveling with children, seniors, or large groups, it can be challenging to gather everyone in one place, keep everyone together, or arrive on time. With a charter bus rental, everyone can relax, socialize, and enjoy the ride, while the driver takes care of the driving.
 
Seasoned Drivers
Secondly, you'll have seasoned drivers who are familiar with the routes, the traffic, and the parking. This saves valuable time and can avoid unforeseen delays. Charter bus rental companies also regularly inspect their vehicles, inspecting the engines, brakes, and tires, to ensure they meet all safety requirements. So, you can rest assured that you and your group are traveling on a reliable and safe vehicle.
 
Customizable Itineraries
Thirdly, a charter bus rental in Hartford, CT further allows you to customize your itinerary to suit your specific travel needs. You can arrange pick-up and drop-off times to fit your schedule, visit the attractions you prefer, and organize rest stops when and where you like. The ability to customize your itinerary allows your group to travel at its own pace and enjoy as much as possible.
Fourth, IMG's Hartford Charter Bus Companies have top-of-the-line fleets, which include luxury coaches, executive coaches, mini-buses, and school buses. You can choose the bus that best meets your group's needs. For example, if it's a corporate event, an executive coach will fit your group's needs, while a mini bus is perfect for a family reunion or celebration. Whatever your needs, you can surely find a bus that's right for your group.
Finally, charter bus rental companies in Hartford can assist you with trip planning, including route recommendations, hotel suggestions, and tour scheduling. So, you can relax knowing that you have a team of experts that can help you plan the perfect trip, taking care of the details so you can focus on enjoying your journey.

Book your Hartford, Connecticut Group Transportation Today

A charter bus rental in Hartford, CT is an excellent choice for anyone looking to travel in style and comfort. It's a great way to ensure your group is together, on time, and traveling safely and reliably to your destination. With the ability to customize your itinerary, choose a suitable bus, and receive assistance with trip planning, you can create a fantastic travel experience. If you're looking for the perfect travel solution for your next corporate event, school trip, or family reunion, be sure to consider a charter bus rental in Hartford, CT.