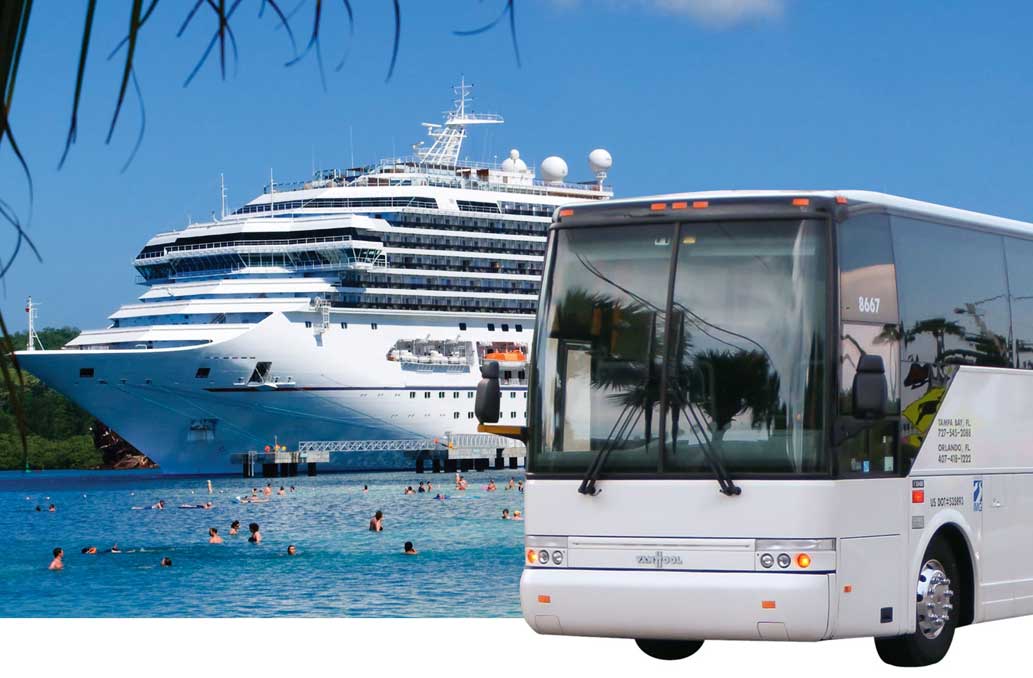 Orlando Cruise Transfer Service
If your group is setting sale from Port Canaveral on Norwegian Cruise Lines, Disney Cruises, Carnival, or Royal Caribbean, let us do the driving! Orlando is just an hour away from Port Canaveral, but you are going to want a safe and reliable shuttle to your cruise. After all, you don't want to be late because the cruise ship will leave WITHOUT YOU! 
IMG companies will safely transport your group on time and relaxed ready for your adventure. This is a vacation; let us take the stress out of the most hectic part of the trip. Fill out the quote form today and find out how we can be your Orlando cruise transfer solution, or call 888-447-3466.
IMG Cruise Shuttle Bus Companies in Orlando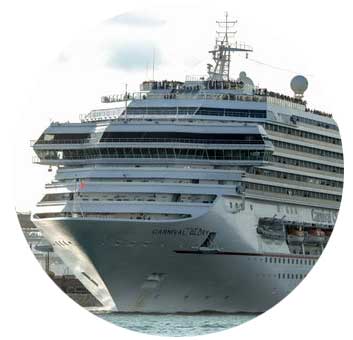 Port Canaveral Charter Bus and Minibus Rentals
If you are spending a couple of days at the theme parks before your cruise or flying into Orlando International Airport and need to get directly to your cruise, we can pick you up at the location and time you need. There is no reason to waste time arriving hours before your cruise on a public shuttle, or trying to book, pick up, and drop off a caravan of rental cars just to get from Orlando to Port Canaveral.
This is your group's vacation that you have spent months planning. Don't ruin it for your whole group before it has even started - be your group's vacation hero! Fill out the form today to receive a free, no-obligation quote for your Port Canaveral transfer shuttle!
A Family that Travels Together Stays Together
IMG Companies will make your schedule their priority. We will help you plan your trip so your group will arrive at Port Canaveral with plenty of time to unload and board the ship.  Knowing that everyone is traveling together not only gives you peace of mind, but also relieves the worry that Grandma and Grandpa's rideshare got lost and your sister, who rented a car, got stuck in traffic. Simply climb aboard a modern, comfortable, private cruise shuttle and enjoy the time with your family.
Be sure to discuss any special amenities you may want with your IMG Motor Coach Company. Perhaps you want a movie playing for the kids on the entertainment system, Wi-Fi to post your latest vacation photos on social media, or some other special amenity for your cruise group. Just ask, and we will work with you to make it happen!
Skip the Parking Garage & the Fees


Simply put, take a personalized cruise shuttle and avoid the parking fees which can really add up for a large group driving individually. The parking garages are huge and quickly turn into an arduous walk hauling your luggage and keeping your group together. With a private cruise shuttle all of this is avoided when you are dropped off at the front door!
Book your Charter Bus to Port Canaveral Today

Just fill out the form with your itinerary, number of travelers, and a list of any desired amenities. We will then work through any additional details and provide a free, no-obligation quote for your Port Canaveral cruise shuttle!