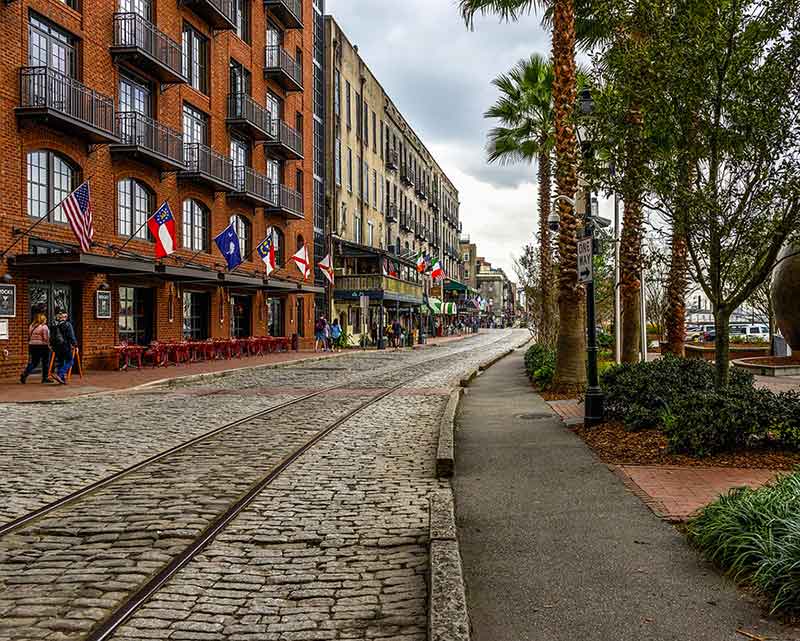 Get a Quote for Your Charter Bus Trip in Savannah, GA Today!
Savannah, Georgia is one of the most enchanting towns in America, and there's no better way to explore it than with a charter bus rental. As one of the oldest cities in the country, Savannah has played an important role in American history. From the Revolutionary War to the Civil War, visitors can soak in the city's rich historical legacy. Whether you're traveling with a corporate group, school organization, or family reunion, Savannah's many attractions are sure to delight everyone. So why wait? Get a quote for your charter bus trip in Savannah, GA today!
Savannah IMG Motorcoach Companies
1751 Reeves Street
PO Box 2245
Dothan, Alabama  36302
800 235 6849
Website: www.southerncoaches.com
Email: This email address is being protected from spambots. You need JavaScript enabled to view it.
This email address is being protected from spambots. You need JavaScript enabled to view it.
260 University Avenue SW
Atlanta, Georgia  30315
404 591-2750
Website: www.southeasternstages.com
Email: This email address is being protected from spambots. You need JavaScript enabled to view it.
This email address is being protected from spambots. You need JavaScript enabled to view it.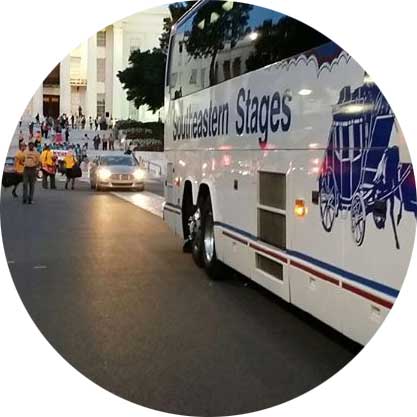 Savannah's Reliable Groups Transportation Source
Historic Savannah
Founded in 1733, Savannah became the British colonial capital of Georgia and eventually Georgia's first state capital. As you wander through the Historic District, you'll be transported back in time to the colonial era with its cobblestone streets and stunning architecture. The district is home to some of the nation's most historic landmarks, including the Telfair Museum of Art, the famous Forsyth Park, and the haunting Bonaventure Cemetery.
Music & Culture
Savannah is also famous for its vibrant arts scene. Whether your group is interested in classical music, jazz, or contemporary art, Savannah has plenty to entertain and delight. The Savannah Orchestra and Savannah Philharmonic are two of the city's most renowned classical ensembles, performing everything from Beethoven to Tchaikovsky. For jazz lovers, the annual Savannah Jazz Festival is not to be missed, featuring top regional and national jazz acts. Finally, young travelers will love exploring the city's many galleries and museums, including the Jepson Center for the Arts and the Owens- Thomas House.
Outdoor Adventure
If you're looking for a fun and active way to see Savannah, there are plenty of outdoor activities to choose from. Take a stroll along the Savannah Riverfront, where you can take in scenic views of the harbor and watch the boats go by. For something a little more adventurous, consider a kayak tour of the nearby salt marshes or a bike ride through the city's lovely parks.
Corporate Travel
Savannah is also a popular destination for corporate events and business meetings. Thanks to its stunning downtown location and top-notch event facilities, Savannah is a great place to host conferences or business retreats. With a charter bus, your group can easily be transported to all the venues, whether it's the famous Hyatt Regency Savannah or Savannah International Trade & Convention Center.
Group Transportation
A charter bus trip in Savannah, GA is the perfect way to travel with a large group, whether it's for a family reunion or a school field trip. With comfortable seating and plenty of storage space for luggage, charter buses are a convenient and affordable way to travel. Plus, with a professional driver in charge of logistics, you can sit back and enjoy the ride.

Book your Savannah, Georgia Charter Bus Group Transportation Today

Savannah is a truly special and unique destination that deserves to be explored in style with a charter bus rental. From the city's rich colonial history to its thriving arts scene and gorgeous outdoor spaces, there's something for everyone in Savannah. Don't wait to plan your next adventure - get a quote for your charter bus trip in Savannah, GA today!