Mar. 27th, 2018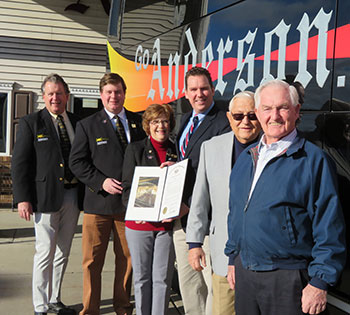 Acknowledging the stellar service and rich, 80-plus-year history of family-owned Anderson Coach & Travel prompted a citation from the Pennsylvania House of Representatives.

Current state representative Rep. Parke Wentling , joined by former state Senators Bob Robbins and Roy W. Wilt to celebrated the honor with company President Doug Anderson, Vice President Sue Anderson Nicklin and third-generation family member Ryan Nicklin, Anderson Coach & Travel Director of Operations.
Rep. Parke Wentling, noted that Anderson Coach is known for providing convenient service, strong traditions and involvement in the community.
The citation reads, in part: "Since its inception, the business has maintained a tradition of excellence, remaining responsive to the ever-changing needs and interests of the community it serves. Its steady progress is a tribute to key leaders and dedicated employees who have carried it to its present heights and built a foundation for a bright future."
"We are deeply honored to receive this recognition from the Legislature. Having it presented by three men who've committed their lives to serving the public made it extra special," said President Doug Anderson. "The Anderson family's relationship with the Wilts and Wentlings goes back decades, so their involvement was really terrific for us."
Wentling has known the Anderson's his "entire life," as they are all members of the same church in Greenville. And Wilt served as a bus driver for Anderson while getting his degree at Thiel College in the late 1950s prior to beginning his political career. Robbins knew founders Dot and O.D. Anderson. "They were very personable. They were the type of people you'd expect to get into the 'people' business." The Andersons were pioneers in motorcoach travel and provided the foundation for what the company has today, which is a reputation for being one of the best bus companies in the state and region, Robbins said.
Anderson Coach today has a fleet of 180 vehicles that safely deliver nearly 5,000 students to school and home again daily. Their large fleet also includes more than 40 deluxe motorcoaches of varying sizes chartered for field trips, church and scout groups, concerts, sporting events and much more. The company also operates a tour division with hundreds of pre-planned trips people can purchase individual seats on. These go as far as Alaska, a tour O.D. first conducted in the 1960s when the Alaska Highway was still a dirt road!