Now is the perfect time to plan a Ski Trip with friends or family!
But getting there can be half the battle. Driving in winter weather can be treacherous, and flying can be expensive and stressful. The best way to get to your Ski Trip destination is by chartering a motorcoach.
 IMG charter bus companies have a wide selection of charter buses to choose from. We can also customize your Ski Trip transportation to fit your group's needs. Whether you're looking for a luxury motorcoach with all the bells and whistles, or a more budget-friendly option, we can help you find the perfect bus for your Ski Trip. Contact us today to learn more about our Winter Ski Trip Bus Charters.
Five of the Best Places to Take Your Group Skiing
While there are many amazing places to ski all over the world, there are some truly exceptional destinations right here in the United States. From the world-renowned slopes of Vail, Colorado to the stunning peaks of Lake Tahoe, California, here are five of the best places to go skiing in America.
Vail, Colorado is one of the most popular ski destinations in the country. With more than 5,200 acres of skiable terrain, it's easy to see why. The resort town is also home to a charming European-style village with plenty of shopping and dining options.
If you're looking for a truly unique ski experience, Taos Ski Valley in New Mexico is worth a visit. This small resort offers big thrills, with steep and challenging terrain that will test even the most experienced skiers. And at an altitude of more than 12,000 feet, it's one of the highest ski resorts in North America.
There's no shortage of things to do at Sugarloaf in Maine. In addition to its vast network of trails, the resort also offers an outdoor ice skating rink, a zip line course, and even downhill mountain biking in the summer months.
Located in Pennsylvania's Pocono Mountains region, Camelback Mountain Resort is a great option for families or beginners. The resort offers both beginner and advanced trails, as well as a water park and an Adventure Park with rope courses and zip lines.
And last but not least is Lake Tahoe – one of the largest alpine lakes in North America. With more than two dozen ski resorts to choose from, you'll be spoilt for choice. But no matter where you decide to go skiing in Lake Tahoe, you're guaranteed to be treated to breathtaking views.
Take Bus Tour to the Ski Slopes for Small Groups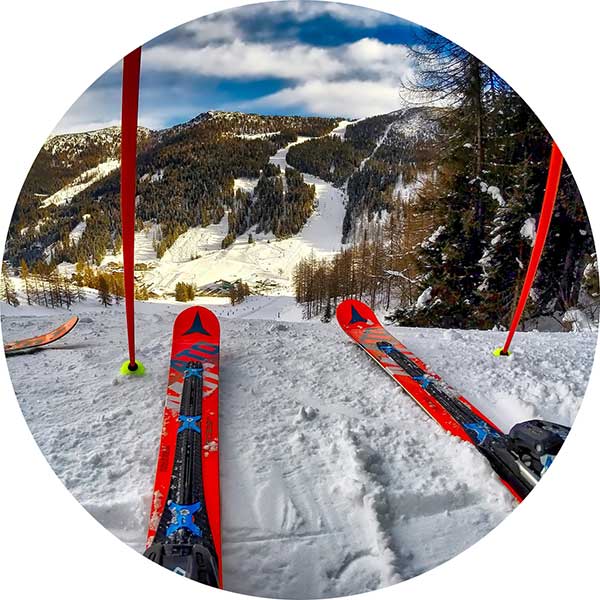 Most Ski Trip bus tours include round-trip transportation, so you don't have to worry about getting to and from the slopes. These are ideal for small groups that don't need to charter an entire bus. Simply purchase the number of tickets needed and you are on your way to the fresh powder!  With so many Ski Trip bus tours to choose from, you're sure to find one that's perfect for your group. So whether you're looking for a family-friendly trip or an adrenaline-filled adventure, there's a Ski Trip bus tour that's perfect for you. Many IMG bus companies offer tour packages to the top skiing destinations across the United States and Canada.
Company Team Building Ski Trips

Winter ski trips are a great way for companies to build team morale and reward employees for a job well done. A motorcoach or charter bus is the perfect way to transport employees to and from the ski resort, as it is a safe and convenient option. Ski trip transportation should be comfortable and spacious, so that employees can relax on the way to and from the slopes. With plenty of room for luggage and skiing equipment, a motorcoach or charter bus is the ideal way to get your team to the slopes. Contact us today to learn more about our winter ski trip packages.
Schedule your Winter Ski Trips Today
Motorcoaches are equipped with spacious luggage bays, so you can easily store all of your gear. Plus, charter buses include amenities like onboard entertainment and climate control, so you can relax on your way to the slopes. When it comes to group ski trips, chartering a bus is the most convenient and hassle-free way to travel.
Contact us with your itinerary and special accommodations and get a quote today!