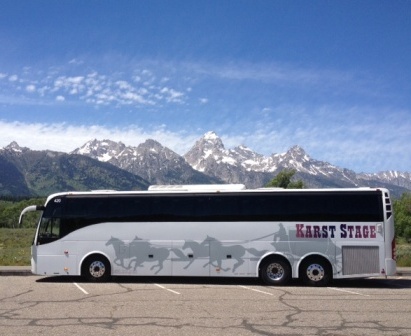 Karst Stage
511 N. Wallace
Bozeman, Montana  59715
406-556-3500
Website: www.karststage.com
Email: This email address is being protected from spambots. You need JavaScript enabled to view it.
FAX:
In business since: 1902

Karst Stage based out of beautiful Bozeman is Montana's premiere transportation company. We provide the Bozeman airport shuttle to Big Sky, a daily shuttle to Yellowstone National Park, motor coach tours and charters to the Western US and Canada and school bus and transit services. Our Bozeman based fleet of over seventy vehicles includes 56 passenger Prevost H and MCI J4500 models premier motor coaches.  We have two Temsa 36 passenger coaches as well for smaller groups.  We also run luxury mini-buses, high top vans, 4WD passenger vans, and more.  Call us for any transportation solution you need.
What Our Customers are Saying
  "Excellent shuttle service"   My son and I recently used Karst to get to Big Sky from the Bozeman airport. We had an excellent experience. The drivers were courteous and helpful. We went in vans both ways, and they were in good condition. Going back to the airport, we had a few hours of extra time before our flight because of the pickup time, but that is to be expected with a non-private shuttle which is accommodating several passengers at the same time. We had a 9:15 pickup time and our flight was at 1:00. Overall, I would definitely use them again and was happy with the service.   Visited February 2015  
  "Exceptional Service and Tour of Yellowstone"   Honestly, I do not know why Jackson Hole gets all the attention for tours to Yellowstone. After looking at outrageous hotel prices for Jackson Hole, we opted to stay in Bozeman. What an excellent choice! We were also grateful that we could take a tour of Yellowstone offered by Karst. Hands down, the tour was phenomenal! Our driver was Michael, and not only was he knowledgeable, he was extremely professional. The tour is 12 hours, and we enjoyed every second of it. The adults were $109 and kids were half price. The tour requires four people to sign up in order to go. We were a party of six (two seniors, two adults, and two kids, 6 & 8). Gratuity is not included (so tip your driver!) and also expect to pay for your admission into the Yellowstone at the gate. Michael arrived early/on time, and we hit the road right away. Yellowstone is 1.5 hours from Bozeman. He will stop whenever and wherever you need for bathroom breaks, so no worries there. He also provided water. If you like tours and being dropped off at particular stops and learning about the history of the area (including Native American history), then this is your tour! Our family enjoys such tours where someone else drives, narrates, and fights for parking so we can actually enjoy the sites. If this sounds like you, then you will indeed enjoy the tour. We covered almost the entire park. We really don't feel that we missed out on anything. We saw all kinds of wildlife and he tried to find bears for my boys who were interested in seeing one, but we did not. We did drive on our own to Yellowstone the following day (park admission paid on tour is still valid for 7 days) and saw a few sites that Michael recommended that we did not have time to stop at as we drove to the Grand Teton National Park. We have taken so many tours in the U.S. and abroad, and honestly, this tour ranks in our top 3 tours of all time. If you get Michael, you will not be disappointed.   Visited July 2014  
  "Dependable"   Our adult children used their service to travel from the Bozeman airport to Big Sky. The woman I talked to on the phone was very helpful as I tried to organize the transfer. I thought the price was fair. They were on time and easy to find at the airport.   Visited December 2012  
More About Karst Stage
.
Karst Stage - Bus Charter Rental Company