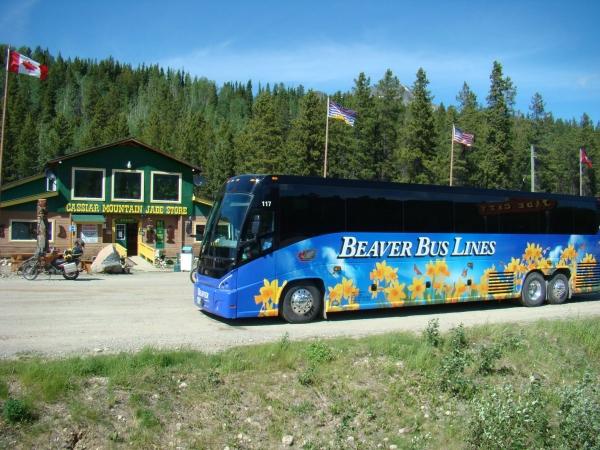 Beaver Bus Lines
339 Archibald Street
Winnipeg, Manitoba  R2J 0W6
204-989-7007
Website: www.beaverbus.com
Email: This email address is being protected from spambots. You need JavaScript enabled to view it.
FAX: 204-231-2645
In business since: 1972

Beaver Bus Lines is a family run business which is the leading charter bus company in Winnipeg and rural Manitoba.  We pride ourselves in being large enough to service your transportation requirements and yet small enough to provide the personal touch.
What Our Customers are Saying
The Winnipeg Folk Festival has been working with Beaver Bus Lines for many years. We rely on their charter services to get our performers to Birds Hill Park and keep the shows running on schedule. They also shuttle people to and from our campgrounds. They have always been a great partner, providing reliable service. We value our relationship we've built with their staff who are always available to provide advice and solve any issues that arise. They go above and beyond to provide good customer service.- Arwen Helene, Winnipeg Folk FestivalThe University of Winnipeg Wesmen have been associated with Beaver Bus Lines for over 20 years. We have always found the quality of their service to be of the highest level. Their motorcoaches feature the latest equipment. Their staff always meet our every need and their pricing is very competitive. If you are in need of bus transportation we highly recommend Beaver Bus Lines.- University of WinnipegAs a local tour operator I have worked with Beaver Bus Lines for more than 10 years and find them to be simply the BEST. Their staff is extremely professional friendly and always provide that extra above and beyond service.- Heartland International Travel & ToursThe Brandon Wheat Kings Hockey Club have chartered with Beaver Bus Lines for the past ten seasons. They have been a terrific carrier with high quality equipment exceptional service and professional drivers. With our organization punctuality professionalism and reliability are very important and Beaver have gained our complete confidence on all fronts.- Brandon Wheat Kings Hockey ClubCanada's Royal Winnipeg Ballet has been traveling with Beaver Bus Lines for the past 30 years. Our touring schedule requires us to travel extensively by motorcoach throughout North America. Our schedule can be hectic, challenging, and variables are the only constant. In 30 years and hundreds of tours we have never been late or missed a performance. Traveling on Beaver Bus Lines is like traveling with family everyone from office staff to the drivers are professional knowledgeable and courteous. Their customers are their highest priority which is why we have traveled with them for so many years. Thank you for the high level of service you provide. We are privileged to have been able to build such a long lasting relationship.- Royal Winnipeg Ballet
More About Beaver Bus Lines
Our bus charter department offers a variety of equipment for your transportation needs.  Our fleet consists of modern MCI 54/56 and 48 Passenger Motorcoaches.  We also have 36 Passenger Executive Recliner Coaches, a 40-Passenger Lounge Coach, and 16-Passenger Sprinter Buses and 47-Passenger Transit-Style buses for local city transfers.  You can expect clean, comfortable, well-maintained coaches with professional service.  We provide local, regional and national bus services anywhere within Canada and the continental U.S.A. for any size group and event.  Whether you're a sports team, church group, corporate client or a group of family and friends with a destination to get to, please contact us for a quotation.   Bus charter quotes are available for airport transfers, local city transfers, day trips and multi-day trips.   
Beaver Bus Lines - Bus Charter Rental Company