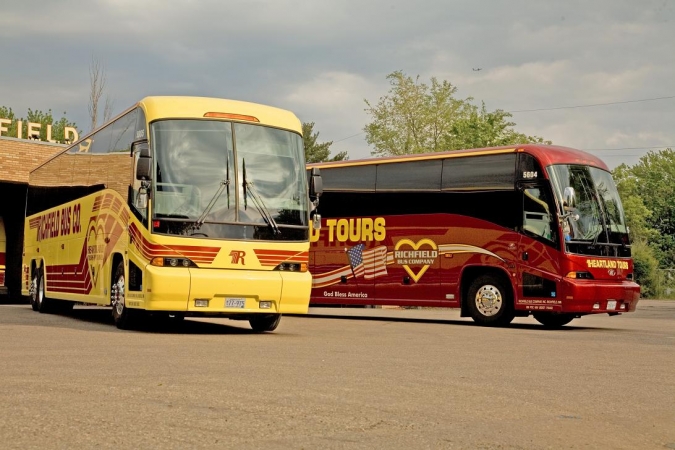 Richfield Bus Company
9237 Grand Avenue S
Bloomington, Minnesota  55420
952-881-1111
Website: www.richfieldbus.com
Email: This email address is being protected from spambots. You need JavaScript enabled to view it.
FAX: 952-884-9190
In business since: 1959

Richfield Bus Company is locally owned and operated by the Holter family 1959, serving people with clean, safe and dependable motorcoach service for student, corporate and sports team travel.
Additional Locations
Rochester City Lines
1825 North Broadway
Rochester, Minnesota  55906
5072884353
What Our Customers are Saying
Rosemount HS Marching Band I wanted to share with you our EXTREMELY POSITIVE EXPERIENCE with your INCREDIBLE BUS DRIVERS this past weekend!!! WOW!!! These bus drivers – Greg Mike Dan and Dave – are the most incredibly professional kind positive-minded dependable and responsible drivers in the business! Very impressive people driving beautiful motorcoaches that allow us as teachers to offer a highly memorable and educational experience to our students. Our trip to St. Louis with the Rosemount HS Marching Band was highly successful – due in large to the bus drivers (and the equipment they operated) that got us there and back safely timely and happily! Richfield Bus Company is a great motorcoach operation – thanks for all that you do to provide such outstanding and high quality service people and buses. With sincere gratitude and thanks Steve O. Rosemount HS Band Director- Rosemount HS Marching BandNorwegian Reunion Dear Richfield Bus Greetings from sunny and hot Oslo! We just wanted to say thank you. The Norwegian Reunion group flew out yesterday and I think all were very happy. The tour went very well in beautiful weather. I will never forget the smell of the prairie. I just wanted to say that we were very happy with our two drivers Greg and Stan. The buses were spotless the driving was smooth and comfortable and they took very good care of us. It was my first tour to the U.S so I was a bit scared. But your drivers helped me along in every possible way – great! Please give them my best regards and thanks. I really enjoyed the tour and working with your drivers. It was a great two weeks!- Norwegian ReunionPrior Lake Middle Schools To Whom It May Concern: I have attached a photo of the Prior Lake Middle Schools 7-8 Honor Band in front of the Richfield Bus we chartered for our recent tour to Chicago. Our driver Tim was exceptional in his professionalism and help during the duration of our time on his equipment and made for a very memorable experience for our students. Thank you for providing such excellent coach service for this trip! We would love to use Richfield Bus Company again for future tours! Sincerely Brian M. Director of 7-8 Bands - Twin Oaks Middle School- Prior Lake Middle Schools
More About Richfield Bus Company
George and Marilyn Holter along with their family have diligently worked to provide the finest transportation service using the most comfortable and dependable state of the art motor coach equipment available.  A great advantage to Richfield's customers and employees is owner involvement in the daily business operation.  As a family business the Holters and their employees strive to tanslate their traditional values into all of their business endeavors by putting people first.  Richfield Bus Co Rochester City Lines and Heartland Tours and travel continue to provide the highest quality service possible to their customers including the newest technology in the transportation industry.  Some of the motor coach features include audio/video with DVD optional wi-fi up to 60 passenger capacity and wheelchair lifts.
Richfield Bus Company - Bus Charter Rental Company