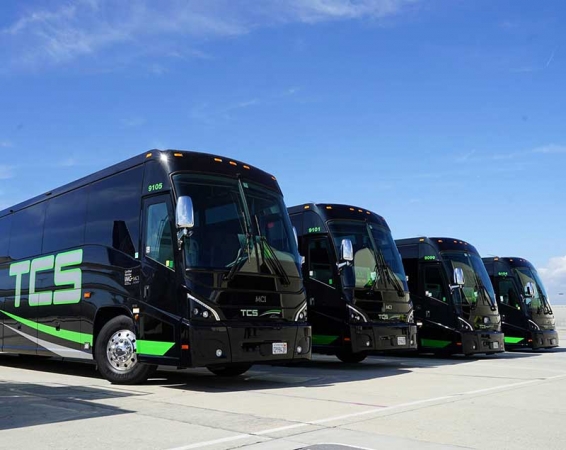 Transportation Charter Services, Inc
1931 North Batavia
Orange, California  92865
714.637.4300
Website: www.tcsbus.com
Email: This email address is being protected from spambots. You need JavaScript enabled to view it.
FAX: 714.637.4377
In business since: 1984

Transportation Charter Services (TCS) has been operating in the Los Angeles market since 1984 providing passenger transportation services for Charter for the past 36 years.   TCS was acquired from the original ownership in January 2012. The new regime is committed to maintaining the solid foundation of business and customers developed over the company's history. TCS focused primarily on the Educational and Religious market segments historically, but the new ownership brings a new dimension with many successful years in the Tour and Travel market as well as over 35 years industry experience. Loyalty to an established TCS ideal, passion for the industry and sheer commitment to innovation will provide the energy for an exciting future for the organization.
Additional Locations
618 McCool Street
P.O. Box 1436
Crossfield, Alberta  T0M0S0
403-946-4988
What Our Customers are Saying
TCS is a very valuable partner of ours. Everyone from the owners to dispatch to the drivers are professional and provide exceptional customer service. Their coaches are always well-maintained and equipped when they arrive for a tour. Above all, their drivers are their biggest asset because they are experienced, knowledgeable and help provide memorable experiences for our clients. TCS understands the needs of their clients and we appreciate their dedication to provide the best product and service. TCS is a reliable company that will provide quality service for anyone with transportation needs. Claudia Brooks, Operations Manager of Contiki Holidays
TCS has been a standout partner for our cruise operations in the LA area. Their buses are always well kept and arrive on-time. More importantly, their drivers stand above the crowd with their professionalism and excellent customer service. TCS consistently exceeds our expectations and I can highly recommend them to anyone in need of quality transportation. John Oldefendt, Director of Operations Metro Shore Services  
Fullerton College has been doing business with Transportation Charter for over 20 years. The staff is friendly, courteous and willing to accommodate any changes, last minute excursions and cancellations that might occur. The buses are always clean and the drivers are punctual and professional. Fullerton College looks forward to a continuing relationship with Transportation Charter for many more years. Fullerton College
More About Transportation Charter Services, Inc
General Charters – TCS provides charter service for any type of group out of California for day trips as well as overnight trips to your destination of choice. Tour & Travel Industry Operators – TCS provides service to both domestic and international inbound tour operators with late model motor coaches.  TCS coaches are custom equipped for the Tour market to suit the needs of tour operators for first class comfortable transportation.  With locations in in Los Angeles, CA and Calgary, AB,  TCS is a one stop shop for Tour Operators  operating programs in California, the National Parks and Canyonlands as well as the Canadian Rockies. Athletics - Professional Sports – Los Angeles and Anaheim are home to many professional and amateur sports organizations.  TCS is strategically located to service this market segment with a modern fleet and experienced operators that have a long history working in this market segment. College & University Sports - Southern California is home to many major Colleges and Universities that are participants in major and minor athletic conferences.  TCS is conveniently located to service all inbound visiting conference schools for a variety of sports. Conventions & Meetings - Area cities have convention facilities hosting thousands of annual meetings.  The Anaheim Convention Center is the largest on the west coast.  Over 1,000,000 delegates attend conventions annually at this venue.  Transfers are required for delegates to and from their hotels to the facilities as well as transportation for sightseeing tours, events and airport transfers. Airport & Cruise Ship Transfers – All the major cruise lines operate out of the Long Beach and San Pedro cruise terminals.  TCS has the resources to provide transfers for both large Ground Transportation Operators as well as individual groups requiring transfer service to and from the regional gateway airports. Corporate Commuter Shuttle Service - Many corporations as part of an initiative to become more environmentally conscious are moving towards providing commuter shuttles for employees in an effort to cut down on the number of cars traveling on CA roadways.  TCS is actively seeking out these opportunities and has a solid infrastructure that can support this service regardless of the size and scope.     Relocation & Emergency Services – TCS is on call 24 hours for relocation services for airlines due to weather as well as transportation for fire crews for emergency response.   
Transportation Charter Services, Inc - Bus Charter Rental Company