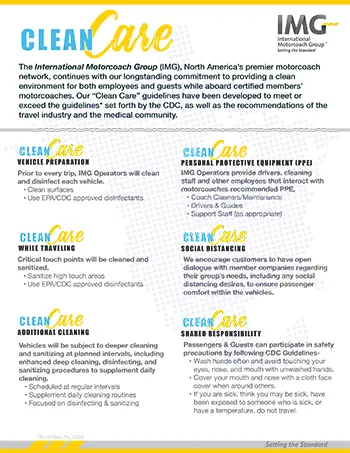 Clean Care
During this time, nothing is more important to IMG than the health and safety of our customers, partners, and team members. IMG has a longstanding commitment to providing clean motorcoaches for both our guests and staff. IMG's Clean Care elevates that commitment.
We continue to monitor the COVID-19 situation throughout North America and the guidelines of the CDC, Travel industry and medical community. Our members remain focused on providing our travelers with the service and support they have come to expect from an IMG member company.
To learn more about Clean Care
Air Flow within the Motorcoach
As we look ahead to traveling again, motorcoaches provide many features for added confidence. Beyond space, motorcoaches have enhanced airflow and filtration systems that can reduce the risk of COVID-19 transmission. Fresh air is circulated regularly throughout the vehicle and with the adoption of other measures recommended by the CDC, such as enhanced cleaning and sanitization, we trust will bring you added confidence in choosing motorcoaches for your future transportation.