July 25th, 2018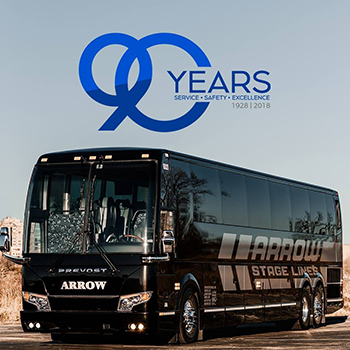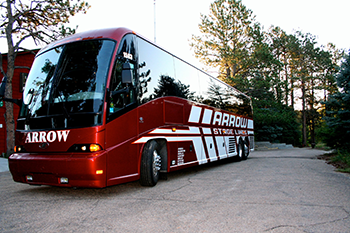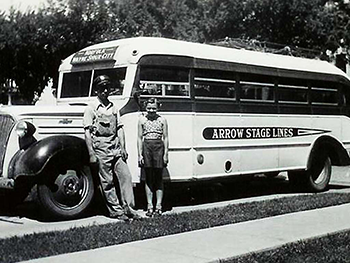 IMG's Arrow Stage Lines is proudly celebrating their 90th Anniversary in business.
In 1928, Carl Busskohl founded Arrow Stage Lines as he provided a local service to the people in Norfolk, NE, initially transporting mail and bread. People began asking for rides and soon empty seats were filled with eager travelers.

Growth followed as did the expansion of the fleet with larger vehicles and drivers. In 1950, Doyle Busskohl, Carl's son, joined the business eager to learn from his father's success. Doyle's key to growing the business further was rooted in one main idea, a passion for customer service.
In the 60's a new type of business developed, tours. Working with Allied Tour and Travel who packaged tours, Arrow Stage Lines was the source of transportation. Also selling single tickets to multiple destinations across the Midwest using Arrow Stage Lines equipment, the partnership between the two companies fostered significant growth.
The 3rd generation joined the business in 1980, Steve Busskohl, and after Steve's arrival business at Arrow Stage Lines expanded to all areas of the nation.
To support the growing footprint for their transportation services, today Arrow Stage Lines has facilities in multiple states – Nebraska, Kansas, Colorado and Idaho. Within the industry, Arrow Stage Lines is award winning and innovative. Today the 4th generation lead the company, with Luke Busskohl at the helm.
To celebrate 90 years of excellence, Arrow Stage Lines has open houses for their team members, customers, clients, vendors, and the public to open houses across the country. A business rooted in customer service, quality people, and amazing equipment, Arrow Stage Lines team members have worked incredibly hard over the last 90 years to make it to this point. With over 250 vehicles in their fleet, this makes Arrow one of the largest privately owned motorcoach companies in the nation.
"90 years of business in any industry is a milestone and we are blessed to have made it this long. Without amazing team members, wonderful equipment, and God's amazing grace, we could not have made it this far," said CEO, Steve Busskohl.
Arrow Stage Lines is a proud IMG member and live by their mission statement: "Dedicated to passenger safety and comfort in every mile we drive!"
Learn more at www.arrowstagelines.com