Aug 14th, 2019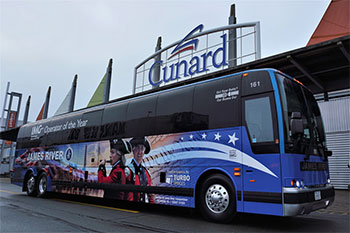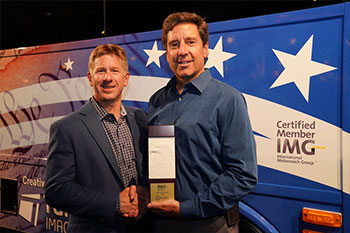 At the IMG annual Strategic Alliance Meeting, in Halifax, Nova Scotia, James River Transportation was name 2019 "Operator of the Year".
The award was accepted by Stephen Story, President, James River Transportation, on behalf of his family and the entire James River team. Unique to IMG, the award included the unveiling of the customized "wrapped" motorcoach, featuring scenes from the James River area of Virginia.

Each year, IMG recognizes one of their own for this great honor, with the award based on a criteria of: operational excellence; safety performance; best practices; community and motor coach industry involvement; and engagement within the International Motorcoach Group (IMG).
A panel of the past three winners, Autocar Excellence, Starr, and Brown Coaches had the unenviable task of choosing the eventual winner. In front of IMG member and partner companies, Story said: "This is such an honor and such a surprise to be recognized by this group, of which James River was a founding member. We are so honored to receive this award".
James River was founded in 1928, as a rural route for daily shopping in the Richmond area. Today second and third generations of the Story family work in the business, that services a range of travel needs from airport transportation to over the road tours. With a fleet of 85 vehicles in four locations in the Virginia areas, James River has continually advanced a corporate culture of excellence, safety and advanced training.
As is tradition, IMG unveiled the "Operator of the Year" Motorcoach, designed and painted by Turbo Images, featuring images from the James River Transportation region.