Jan 11th, 2019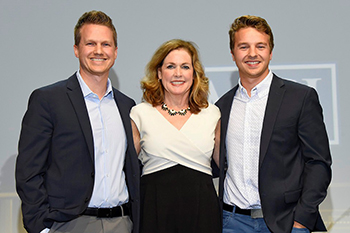 IMG's Arrow Stage Lines, were the proud recipients of two awards at the recent United Motorcoach Association's (UMA) Expo 2019 in Fort Lauderdale:
The "2019 Motorcoach Marketing Award" and The "2019 Motorcoach Environmental Leadership Award".
Arrow Stage Lines, founded in 1928, is a fourth-generation family owned business with over 250 motorcoaches and has 12 locations in 7 states – Arizona, Colorado, Iowa, Kansas, Missouri, Nebraska and Nevada.
In accepting the 2019 UMA 2019 Motorcoach Marketing Award, Mr. Alex Busskohl, Arrow Stage Line's Corporate Operations and Marketing Specialist, said that: "This award reflects our dedication to growing charter sales through innovative and consistent marketing efforts. Arrow Stage Lines did this through New Website Development to streamline the quoting and information process, through social media activity daily and constantly coming up with new content, and through internal marketing campaigns."
Luke Busskohl, Arrow Stage Lines COO, said with respect to the 2019 Motorcoach Environmental Leadership Award, "Arrow has demonstrated a commitment to "environmental leadership" in the areas of internal corporate initiative and external corporate stewardship with the communities. Initiatives include idle-free initiative, eco-driving training, waste recycling, and sustainable building improvements."
The company has a continuing commitment to sustainability, requiring all its drivers to receive and maintain eRating certifications, which are given out to those successfully completing training for the Certification for Sustainable Transportation (CST), a program created by University of Vermont. As a result, Arrow Stage Lines' drivers are knowledgeable on matters pertaining to eco-friendly driving and play their part in helping reduce the company's overall environmental footprint through the smart, energy-efficient operation of their vehicles.
IMG congratulates the entire team at Arrow Stage Lines and being recognized for their leadership in marketing and environmental leadership.